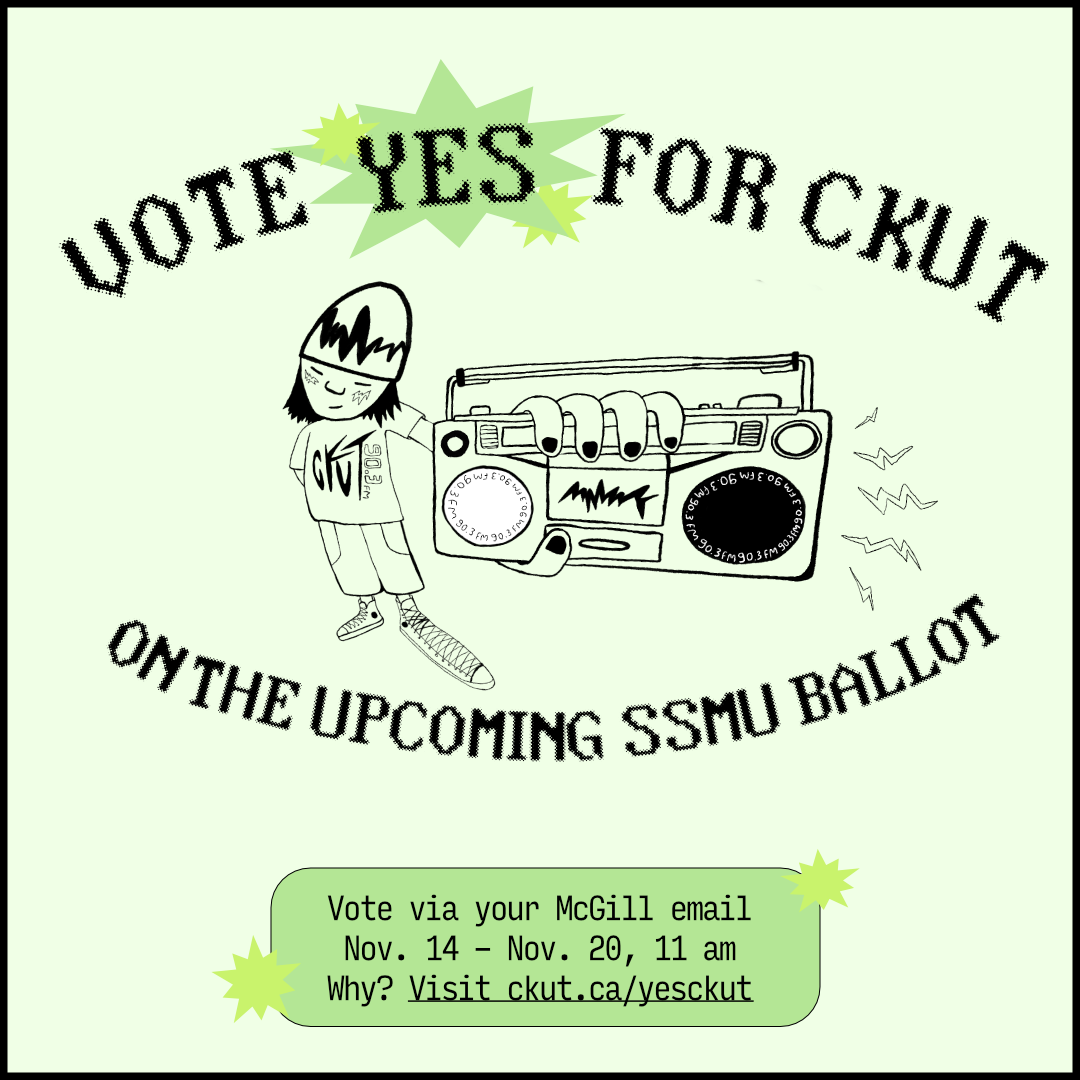 From Nov 14-20 at 11 am, vote YES for CKUT via your McGill email in the upcoming SSMU referendum!
WHAT IS CKUT?
McGill's radio club was founded in 1921 and evolved into what is now modern-day CKUT when it went live on the FM airwaves in 1987. The station broadcasts a diverse array of 24/7 programming cross the island of Montreal on the FM dial as well as streaming online worldwide. The station's mandate is to grant airtime and facilitate self-representation for communities who are underrepresented or misrepresented in mainstream media. CKUT is also a creative hub that links McGill to the greater Montreal community, often co-presenting concerts, cultural events, and more. We have a mandate to support Canadian and local music, especially music made by people who have traditionally faced barriers to the music industry (QTBIPOC folks, women and nonbinary musicians, etc.). Overall, we're a vital community and campus resource at your fingertips, on your dial, and on the web.
WHAT DOES CKUT OFFER FOR MCGILL STUDENTS? WHY SHOULD I VOTE YES?
CKUT has a rich history of launching the careers of many McGill alumni, from CBC hosts to world-renowned musicians, audio documentarians to artists, and more. At a university without a journalism program, CKUT fills this gap. The station offers training and access to audio software and equipment for McGill students looking to explore audio journalism. CKUT offers a variety of resume and skill-building opportunities for students, such as volunteering, internships, work-study positions, and summer jobs. More than this, CKUT is a grassroots organization that encourages learning and experimentation above all else. It offers a unique environment where students can build their skills, pitch and produce important projects, and even contribute to CKUT's non-hierarchical collective management structure. Students have done everything from making podcasts about their academic research to scripting experimental radio plays. CKUT has radio program slots dedicated for McGill students. Tune in to programs such as All Things McGill, Unfit to Print, William Shatner's Whiskey Tears, and more. You can even pitch your own show – or simply expand your horizons by tuning in.
WHAT ARE WE ASKING FOR? 
We are asking for a modest $2 increase in CKUT's student fee. Your campus radio station's fee hasn't been raised since 2012, so the budget is extremely out of step with inflation and includes a deficit. Let's bring CKUT's student fee into this decade and continue the station's unique on-campus legacy with the next generation of media-makers, musicians, and creatives!
Unlike some other student fees, CKUT's fee is entirely opt-outable. You can still opt-out of the fee in any given term if you vote YES on this ballot. Even if we're not for you, we hope you will vote YES for the rights of other students to access services that transform their McGill experience, and in the interest of on-campus news, discussions, and democracy. 
WHAT ARE STUDENTS PAYING NOW? 
The vast majority of undergraduate students are currently paying $4-5 (exact fee breakdown below):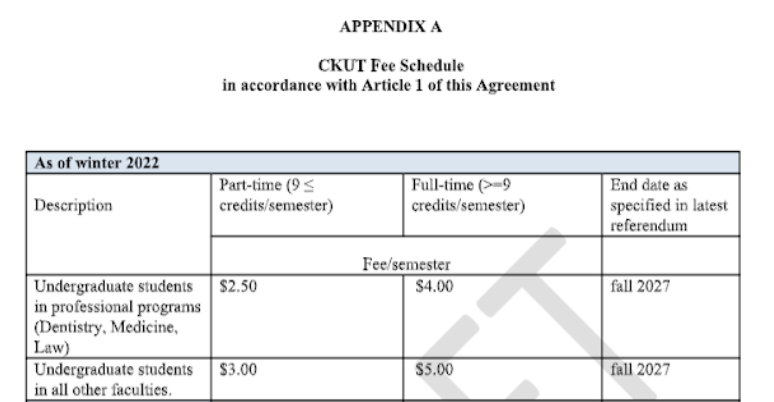 You might be wondering why our fee is broken down into so many subcategories. This is something that likely happened in the 1980s or 90s when the fee was first implemented. The McGill administration told us our fee is likely broken down like this because it was mirroring the SSMU fee breakdown at the time.
This means that the most any undergraduate student would pay with the $2 raise would be $7.
WHAT WOULD HAPPEN IF THE MAJORITY OF STUDENTS VOTED NO?
Student fees constitute an essential chunk of CKUT's operating budget. Losing the referendum would mean that CKUT would continue to struggle considerably as our costs steeply rise, but our income doesn't budge. The deficit we're facing would remain. Campus-community radio and media in general have been struggling with hurdles like Bill C-18 and the Meta ban, which have blocked our main FB and IG accounts for most of 2023. We need to support access to independent media more than ever.
FIND OUT MORE! Follow @ckutmusic on Instagram. 
VOTE DIRECTLY HERE from November 14 to 20th, 2023. Voting closes at 11 am on Monday!
For help voting, email: elections@ssmu.ca
QUESTIONS? Email mcgill@ckut.ca! We're happy to help!
FR:
Du 14 au 20 novembre, votez OUI pour CKUT via votre courriel de McGill lors du prochain référendum de l'AÉUM!
QU'EST-CE QUE CKUT ?
Le club de radio de McGill a été fondé en 1921 et est devenu ce qui est aujourd'hui CKUT lorsqu'il a été diffusé sur les ondes FM en 1987. La station diffuse un éventail diversifié de programmation 24/7 à travers l'île de Montréal sur le cadran FM ainsi que la diffusion en ligne dans le monde entier. Le mandat de la station est d'accorder du temps d'antenne et de faciliter l'autoreprésentation des communautés sous-représentées ou mal représentées dans les médias grand public. CKUT est également un centre créatif qui relie McGill à la communauté montréalaise, souvent en co-présentant des concerts, des événements culturels et plus encore.
QU'OFFRE CKUT AUX ÉTUDIANTS DE MCGILL ?
CKUT a une riche histoire de lancement de la carrière de nombreux anciens de McGill, des animateurs de CBC aux musiciens de renommée mondiale, des documentaristes audio aux artistes, et plus encore. Dans une université sans programme de journalisme, CKUT comble cette lacune. La station offre une formation et un accès à des logiciels et à de l'équipement audio aux étudiants de McGill qui cherchent à explorer le journalisme audio. CKUT offre une variété de CV et de possibilités de développement des compétences pour les étudiants, tels que le bénévolat, les stages, les postes travail-études, et emplois d'été. De plus, CKUT est un organisme communautaire qui encourage l'apprentissage et l'expérimentation avant tout. Il offre un environnement unique où les étudiants peuvent développer leurs compétences, présenter et produire des projets importants, et même contribuer à la structure de gestion collective non hiérarchique de CKUT. Les étudiants ont tout fait, de la création de podcasts sur leurs recherches universitaires à la scénarisation de pièces radiophoniques expérimentales. CKUT a des créneaux pour les étudiants de McGill. Écoutez des émissions comme All Things McGill, Unfit to Print, William Shatner's Whiskey Tears, et plus encore.
QU'EST-CE QU'ON DEMANDE ? 
Nous demandons une modeste augmentation de 2 $ des frais de scolarité de CKUT. Les frais de votre station de radio de campus n'ont pas été augmentés depuis 2012, donc le budget est très en décalage avec l'inflation et comprend un déficit. Faisons entrer le tarif étudiant de CKUT dans cette décennie et continuons l'héritage unique de la station sur le campus avec la prochaine génération de créateurs de médias, de musiciens et de créatifs!
Contrairement à d'autres frais d'études, les frais de CKUT sont entièrement facultatifs. Vous pouvez toujours choisir de ne pas payer les frais au cours d'un trimestre donné si vous votez OUI sur ce bulletin. Même si nous ne sommes pas pour vous, nous espérons que vous voterez OUI pour les droits des autres étudiants d'accéder à des services qui transforment leur expérience à McGill, et dans l'intérêt des nouvelles sur le campus, des discussions et de la démocratie. 
QUE SE PASSERAIT-IL SI LA MAJORITÉ DES ÉTUDIANTS VOTAIENT NON?
Les frais de scolarité constituent une part essentielle du budget de fonctionnement de CKUT. Perdre le référendum signifierait que CKUT continuerait à lutter considérablement alors que nos coûts augmentent fortement, mais nos revenus ne bougent pas.
EN SAVOIR PLUS! Suivez @ckutmusic sur Instagram. 
VOTEZ par courriel à McGill du 14 au 20 novembre 2023. 
Pour obtenir de l'aide pour voter, envoyez un courriel à elections@ssmu.ca – QUESTIONS? Envoyez un courriel à mcgill@ckut.ca. Nous sommes heureux de vous aider!