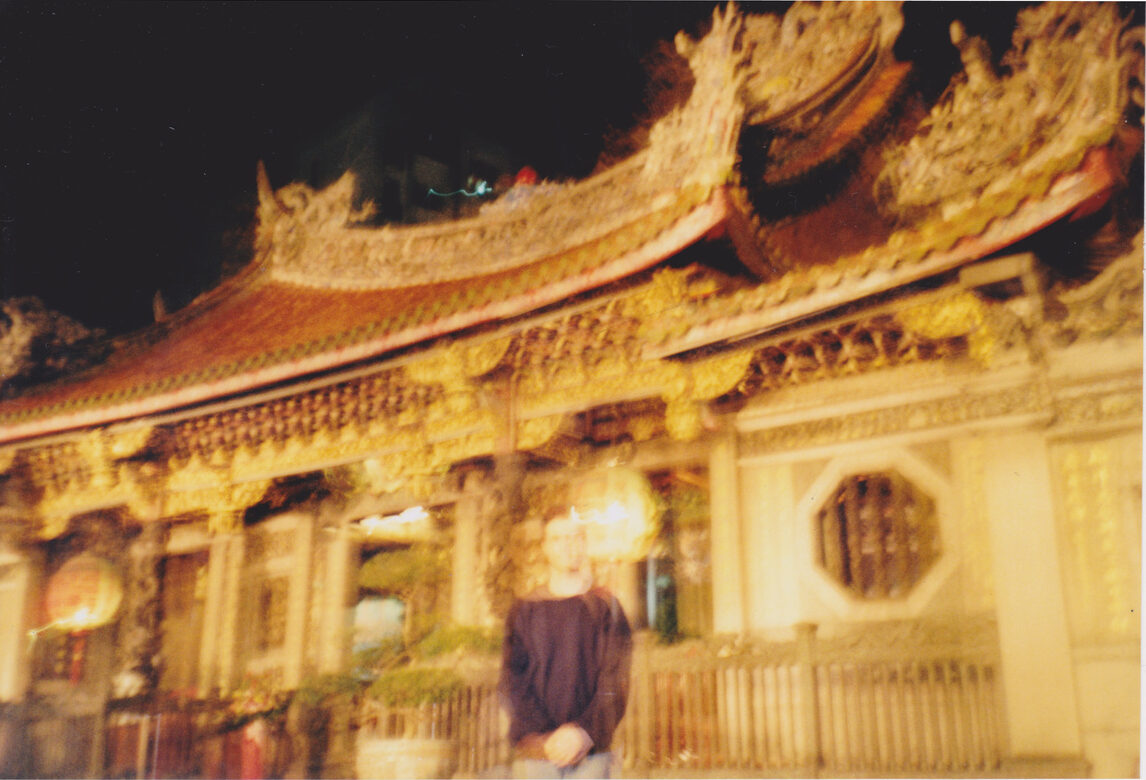 On Saturday February 7th, Monomyth, Brazilian Money, and Homeshake took the stage at La Vitrola. Although I was only able to make the end of the show, getting in just before Homeshake began, the room was already beginning to quiet down and the crowd dispersing, some even heading out. It felt like a quickly deserting space, creating a strange ambiance of confused post-show concert goers. Nonetheless, Peter Sagar, former guitarist for Mac DeMarco and the man behind Homeshake, unassumingly walked on stage around 12:30 with no addressing of the crowd, setting up a small table at the very edge of the stage filled with a handful of pedals, a sampler, and two dimly lit, bronze radiating light bulbs.
I could hear mumbling in the crowd, let alone my own conversations, confused, expecting a full band set-up playing the newest hits of Homeshake. His first full album The Homeshake Tape was released in 2013 and his newest album, In the Shower this past August [2014]. Both albums create the feel of lazy, late mornings eating a greasy homemade breakfasts. In these albums, slow percussion and part surfer-rock, part jazz/r&b guitar riffs over smooth lyrics and samples of fuzzy voice recordings bring you straight into Sagar's living room. However, the show took this intimate sound even further, taking parts of Homeshake's usual sound—jazzy, sway-worthy guitar and synthy whispered lyrics—into a one-man performance with Sagar shadowed by the two bulbs.
It was an atmosphere similar to that of a James Blake show—a quiet, dim, large unassuming silenced room layered with each individual sound; voice, guitar, drumbeat. Coming through the air, the new sound married simple, funky ambient feels to the likes of Toro Y Moi to the sort of soul revival vocals of D'Angelo. However, Sagar still kept to his roots; this performance easily reminiscent of classic Homeshake sounds of quick intersperses of strange voice recordings and jazzy guitar riffs, bringing out the same warm, liquid vibes of actually being in a shower like on his latest album — In the Shower. Yet, at the same time, he also created a sound that I personally think is quite fresh and unique; blending many popular genres in music today by intersecting one-man, slow and steamy chillwave DJ sets with the dancy guitar of classic indie rock and the vocals of synthesized, slacker rock.
The show was quick, lasting about 30 minutes. However, at the end of the show, I was lucky enough to be able to chat with and congratulate Peter Sagar (Homeshake), on this new sound, and to those of you who missed it or, like me, are searching the depths of the interwebs to find any remnants of these new feels, no worries, Sagar assured me that this was part of his new album to be expected in June.