SPECTACLE DE LUTTE organized by CHOQ.ca in collaboration with CISM, CKUT, and CJLO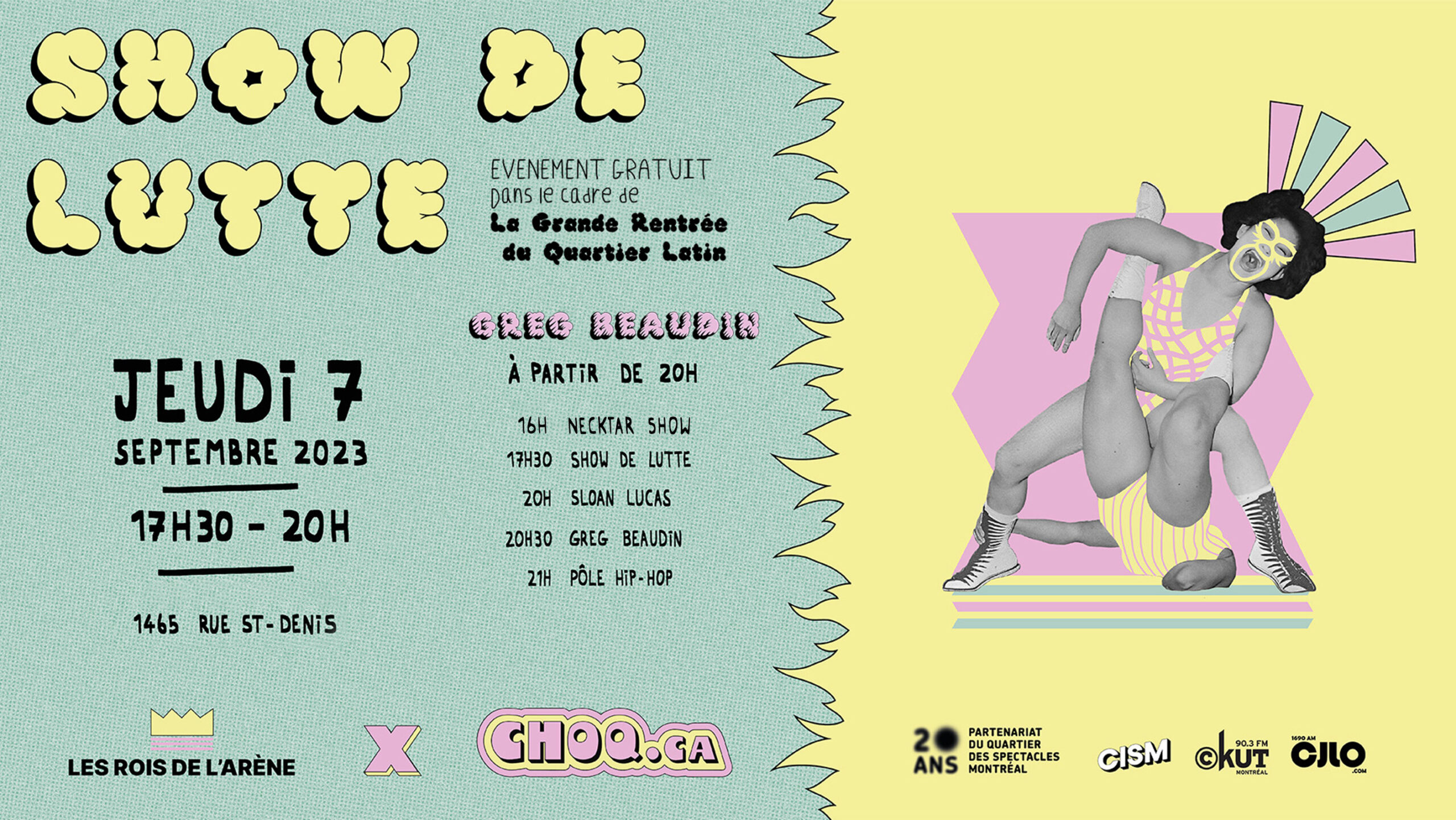 Discover the Spectacular Back-to-School Event: SPECTACLE DE LUTTE
Get ready for a back-to-school season like no other with the most epic event of the year: the Spectacle de Lutte organized by CHOQ.ca as part of La Grande Rentrée du Quartier Latin in collaboration with Les Rois de l 'Arena!
On September 7, join us at 1465 rue St-Denis for an evening of unparalleled entertainment.
The ultimate showdown:
Step into the arena and experience the excitement of the most thrilling wrestling matches! Over twenty of the most valiant wrestlers will face off in epic duels, ready to give their all for glory and victory. CHOQ.ca will have the pleasure of being accompanied by the special presence of CISM, CKUT and CJLO to comment on the event and draw you into the thrilling action of this wrestling spectacle. CHOQ.ca radio and the program Les Rois de l'Arène promise you moments of suspense, action and unforgettable twists.
Exceptional musical performances:
To add a musical touch to this already electrifying evening, we are pleased to present the live performances of Greg Beaudin and Sloan Lucas in the first part.
Electrifying ambiance:
But that's not all ! The event will also be punctuated by the bewitching sounds of DJ sets from the Necktar Show and Pôle Hip-Hop show.
We are waiting for you on September 7 for this extraordinary back-to-school show!
Date : 7 September
Time : 4pm
Place : 1465 rue St-Denis
https://goo.gl/maps/Ufx9gQ71JrZ5jhbQ9
Stay tuned to CHOQ.ca and follow the Kings of Arena on their podcast for more information, updates and special surprises to come.
The entire CHOQ.ca team can't wait to share this incredible evening with you!
#granderentree
.
Les Rois de l'Arène:
https://www.facebook.com/groups/roisdelarene/
Greg Beaudin:
https://www.facebook.com/gregbeaudin.officiel
Sloan Lucas :
https://www.instagram.com/bysloanlucas/
Necktar Show:
https://www.facebook.com/necktarshow
Pôle Hip-Hop :
https://www.facebook.com/Polehiphop
Lagrande Rentrée du Quartier Latin:
https://www.facebook.com/granderentreequartierlatin