Concert Review: BAIO at Bar Le Ritz PDB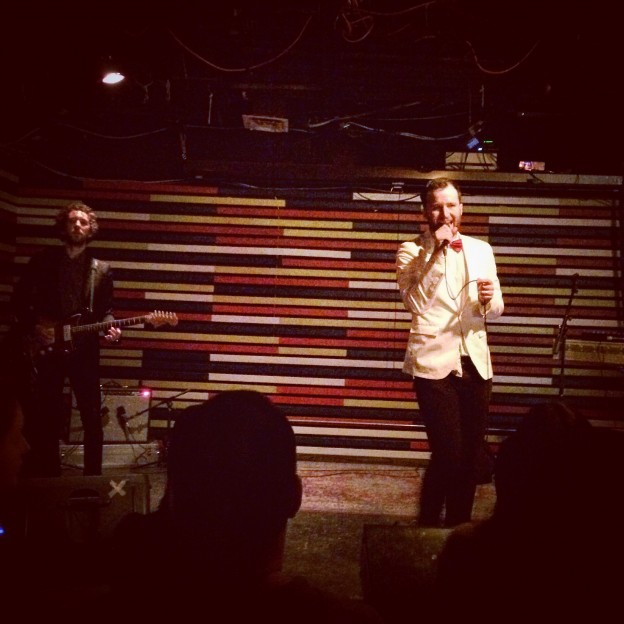 Chris Baio chose the coldest place to end his Northeast tour for his debut full-length album, The Names. As I'm sure anyone in Montreal who ventured out of their homes yesterday knows, the polar vortex hit the city with force. However, in the dimly lit Bar Le Ritz, summertime was imminent. Bouncing back and forth between his keyboard and center stage clad in a white suit jacket and a cheery red bowtie, Baio brought a refreshing vibe to the intimate space, accompanied by George Hume on the electric guitar. BAIO is a solo DJ project, with both instrumental dance tracks and indietronica numbers featuring Baio's eclectic singing style. While some subtle elements in Baio's work can be traced back to his involvement as Vampire Weekend's bassist, he has done well in differentiating himself as an independent artist. The Names is an innovative and refreshing take on indie dance and electronica, and the inclusion of a live guitarist in concert further underlined this fact.
On this tour, BAIO has had local electronic artists open for him, and Montreal's performance was no different. Local IDM artist CRi was featured, and played for approximately an hour before Baio and Hume took the stage. They opened with "Brainwash Yrr Face," the opening track to The Names. At first the guitar was not in sync with the programmed keyboard instrumentals, but Hume quickly righted the ship and the rest of the track went without a hitch. Baio was doing vocals in center stage, shaking his hips while the crowd warmed up. In between album tracks he would improvise with his keyboard, a true DJ at heart. Baio soon after featured a new, untitled song, with cheers from the crowd. Next was "Needs," transitioning smoothly from a few minutes of improv. He then took to the mic, poking fun at the cold by complimenting the audience on their fortitude: "I'd be at home chilling in front of a fire with a cat."
Another unnamed track followed, which demonstrated his penchant for DJing. Hume's guitar work was highlighted quite a bit in this performance, ripping out strong solos before the bass beat exploded about halfway through the track. The crowd, mostly swaying and bobbing, came to life at this as if by the flick of a switch, and Baio mirrored the change in pace, grinning and bopping up and down behind the keyboard. He transitioned right into the album's hit single, "Sister of Pearl," to cheers from the audience. In an interlude between "I Was Born in a Marathon," Baio cheekily plugged merchandise and introduced Hume. He then played a few more tracks off The Names, covering The Eurythmics' "Here Comes The Rain Again," with and earsplitting bass and audience participation on the lyrics. Baio ended his hour-long set with "Scarlett," the last song on The Names and a purely instrumental track with a pensive melody and expert layering. He said a small goodbye and thank you to the crowd and stepped off the stage, leaving Hume to wrap up the outro.
The concert was short, intimate, and light; a perfect oasis in the wintry desert that Montreal has become. Baio was quite comfortable in the intimate setting, but his sound is really meant for a bigger crowd, one that has room to move and groove and shake their hips right along with him. His sound is honest and vibrant, with candid and clever lyrics: a welcome change in the IDM and electronica scene. Hopefully, BAIO will return to Montreal to bring some warmth and cheer in the near future.