Concert Review: Kaitlyn Aurelia Smith at Bar Le Ritz PDB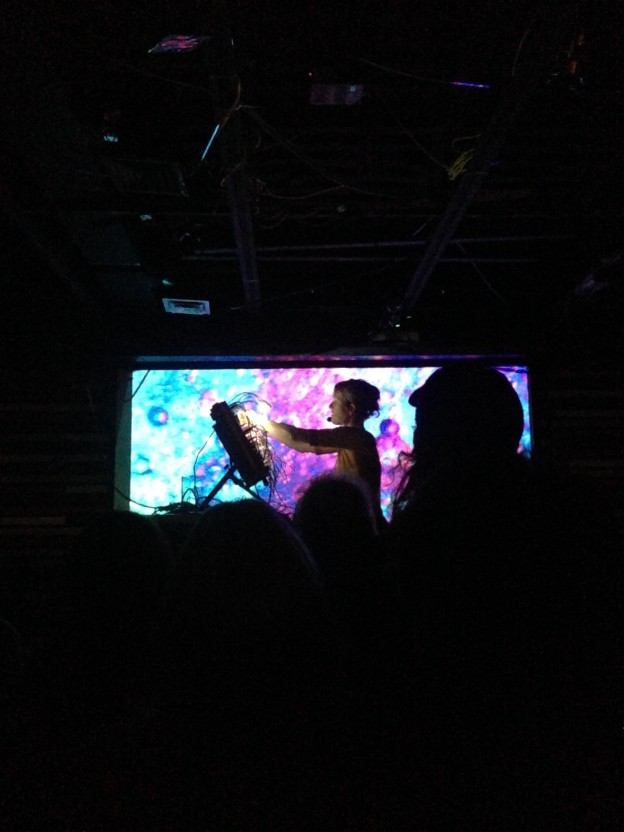 Kaitlyn Aurelia Smith played at the Ritz on Saturday October 28th, the weekend before Halloween — but not actual Halloween, so pretty much a grey zone for those who embrace festive costumes. I opted for regular attire but a solid third of the audience appeared to be dressed up, which created a great atmosphere right off the bat. I believe someone even pulled off sparkly galaxy-themed face paint à la The Kid album cover, which was super clever and may end up an iconic costume because this album is nothing short of spectacular.
Hush Pup got things started with synth, bass and impressive vocal stylings. Their songs have a familiarity and straddled the line between dreamy and haunting. Next up, Rêves Sonores performed beautiful and sophisticated cinematic ambient scores alongside complementary live visuals by Lilith. Despite its minimalism, their set achieved an immersive fullness and pulled my mental state into a pleasant fog.
After Rêves Sonores cleared the stage, all that remained on stage was a wall of hardware that would give even the most experienced synth master sweaty palms. Kaitlyn Aurelia Smith's setup is positioned on stage at a 90 degree angle, giving the audience a profile view of both Smith and her Buchla, which acts as a harmonious extension of her body. After humbly addressing the crowd, she was busy for the duration of her set as both hands performed a perfectly choreographed routine of patches, dials, buttons and keys while she sang into a headset microphone. The continuous motion is mesmerizing, like watching a cross between an ASMR video and a familiar waltz performed by longtime partners.
Her vocals were heavily processed, pitch-shifted and multiplied to create a organ-esque effect, yet they folded seamlessly into the pulses and rhythms of her modular sounds. The visuals evolving on the screen behind her complemented the textures of music perfectly: brightly coloured bubbles and liquefying shapes matched the momentum of Smith's sonic collage.
The audience was enveloped in the panning chimes, percussion, and at times, flocks of bird chirps. Some moments induced a frozen trance while others led to involuntary sways from the crowd. This performance demonstrated by far the most accessible of Smith's repertoire, including dancier songs like "An Intention" and "Until I Remember." Playful and unpretentious, Kaitlyn Aurelia Smith had a great energy and generous stage presence while taking the audience through a narrative experience like a safari through the human condition.