From The Vault: Odds – Diesel You Could Benenena (1990)
The CKUT Music department has been reorganizing the Music Library's Canadian cassette section, and with this task has come many little joys and oddities previously lost to the ages.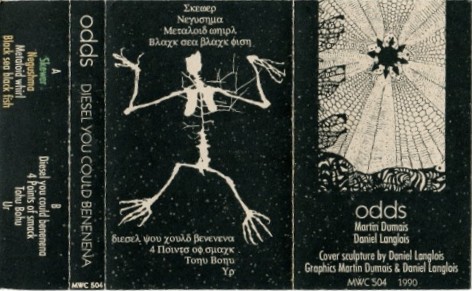 Over the next few weeks, I will be profiling some of the library's deepest cuts, focusing on local and Canadian tapes. When I can, I'll be contacting the artists to get their perspective on their dustier releases, and to give them a chance to publicly reflect on their work, whatever they might be doing now.
Odds – Diesel You Could Benenena (Self-Released, 1990)
Composed of Montreal natives Martin Dumais and Daniel Langlois, Odds is a noise project from the early days of the Montreal electronic avant-garde underground. Mixing fractured beats with samples that seem to collapse in on themselves with a heavy dose of industrial, the tape freewheels through synthetic ambience, heavy ground percussive whirrs, and even a stray congo beat or two. The tape overflows with excitement; the sounds seem to be novel to both the audience and performers. The full tape (including secret track!) is streaming on Soundcloud.
Dumais has become somewhat of a fixture in the Montreal and European doom-drone-black-metal-ambient community (which is larger than you might imagine); he has released nine records under the name AUN, and has played locally at almost every venue and festival in the city, from MUTEK to Suoni, Piknik Electronique to Cagibi, Cafe Campus to Katacombes. Internationally, he's toured Europe (avant-metal's spiritual home), and has performed at SXSW, Barcelona's Sonar Festival, and quite a few more.
Dumais seemed surprised (or, at least, what I took for surprise via email) that I asked about this tape–he doesn't have a copy anymore. He started putting out these noise tapes as a series in 1986, and remembers this as his favourite. It sold through the long-defunct Bunker Records' St-Denis storefront, which was, at the time, Montreal's hot spot for industrial and experimental tapes. (Bunker Records' releasing arm put out some truly bizarre music, notably the scuzz-industrial band "…Of Tanz Victims", whose second tape Holiday In Siberia I will be diving into eagerly in coming weeks).
At the time, Dumais was listening to a mix of industrial, early techno, and post-punk, whose combined influence paved the way for his later work: he cites Sonic Youth, Ministry, Front 242, and Coil as defining acts. The tape was a collaboration with best friend Daniel Langlois. The pair were a self-described "community of two", making art and music at St-Catherine's Foufounes Electrique, which back then was a "real refuge for outsiders of all sorts".
Montreal's avant-garde community was, and remains today, small, with an audience of mostly musicians, and Dumais found early on that CKUT and Francophone community station CIBL were the only avenues for broadcasting this kind of music.To this day, Dumais is more popular in Europe, despite a string of successes in Montreal's local community. (CKUT remains critical to the Montreal avant scene; AUN's recent release was in the CKUT charts just the other week.)
Dumais plots a clear path from these early, experimental recordings (recorded straight to cassette) and his more developed work in AUN. The line is clear: both AUN and Odds share a commitment to space and patience, as well as broad and inventive sounds that straddle industrial and ambient aesthetics. The Odds tape, from a younger artist, is more unsettled, jumping between sounds and styles freely, excitedly, while AUN's darker releases are content to steep in long tones for minutes at a time. This release is enigmatic and inventive, and CKUT is happy that we could unearth this small piece of Montreal's weird history.