From the Vault: Shlonk! — Ee-Yow (1990)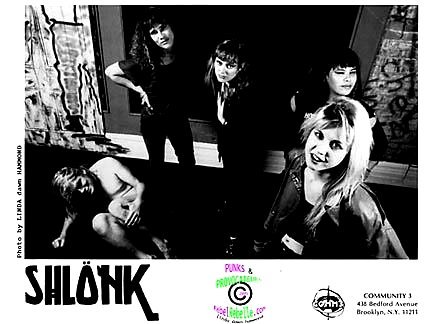 Photo courtesy of Michelle Bouchard, Shlonk! drummer.
This blogger heard rumours about (very in-famous) Montreal punk Shlonk! around the CKUT hallways while looking for some diversity in the male-dominated 80s-90s cassette section. While our copy of their demo tape has been lost to the ages, I tracked down the vinyl release of their first and only LP.
Formed out of Montreal's 80s weird-Anglo underbelly, Shlonk! were an all-girl punk band who associated closely with New York's SCUM Rock community. (In this case, SCUM stands for "Socially Conscious Urban Musicians", but see also Valerie Solanas' tract of the same name.)
The record is a scuzz-covered testament to the scene's creativity: crass, bold, and intelligent, Shlonk! mine hardcore, punk, and sludge metal for material, and they really, really don't care what you think of it.
While they undoubtedly earned the "punk" label–for both music and lifestyle–the record is frenetic and diverse, accessing deep, aggressive, subgenres as much as conventional hardcore. . "Shlonk!" (the track) begins dissolves quickly into a repetitive, melodic riff and doomy vocals that wouldn't be out of place in a metal song. Almost instantly, as if they were found out, the song flips on its head once more before being dragged back to its sludgy roots.The band gravitates around novelty with child-like glee; they abandon ideas as soon as they lose energy. The rest of the record is similarly hectic, with thirteen gloriously varied tracks, each of which has staying power.
Very little information about the band is available online, but I was able to track down a transcribed interview with the one and only Lorrie on CKUT's 'Aack!'. True to form, the band says very little.
Despite remaining fiercely underground, the band apparently played to rapturous audiences in Europe, and played some reunion shows in Toronto and Montreal a few years back. Check out this video for "Arm Your Children", which showcases their brand of anarcho-madcappery better than I ever could. The video even features a close friend of CKUT as "Junior", the armed child…
Bassist Colleen MacIntyre sadly passed away in 1996.