OMAR SOSA & SECKOU KEITA LIVE AT LE NATIONAL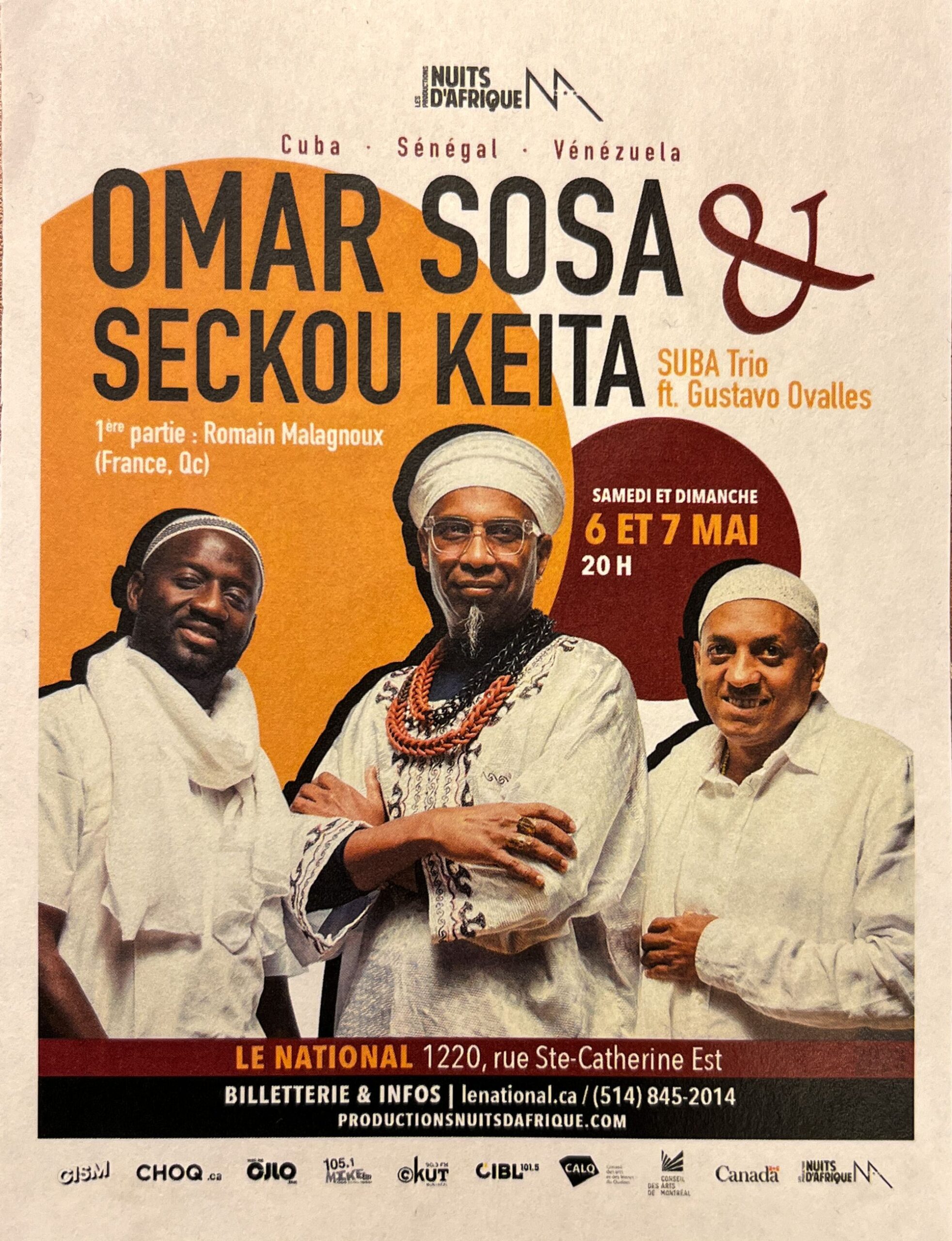 When I entered the concert hall, little did I know I was to embark on a journey through the world of Latin and African rhythms. Omar Sosa, Seckou Keita, and Gustavo Ovalle took the stage, creating a captivating fusion of musical traditions that left me in complete awe.
As a recent piano enthusiast, I was entranced by Sosa's breathtaking piano playing. The richness and diversity of his sound had me hanging onto every note, drawing me deeper into the trio's enchanting world.
Keita, a master of the kora, showcased his expertise with an endless range of sounds and melodies. His intricate playing complemented Sosa's piano, adding depth and complexity to the music. Witnessing the interaction of these two instruments felt like a privilege, as they weaved a tapestry of sound.
Gustavo Ovalles, an expert percussionist, infused Afro-Venezuelan, Latin, and Caribbean influences into the performance. His energetic rhythms laid the perfect foundation for Sosa and Keita's melodic interplay. As Ovalles drove the ensemble forward, I could feel the heartbeat of the music in my chest.
Throughout the evening, I was struck by the trio's remarkable symbiosis. The concert was an unforgettable experience, showcasing the incredible creativity that emerges when different artists and traditions unite. Their latest album SUBA encapsulates the vibrant energy and performance that define their collaboration.
Omar Sosa and Seckou Keita illustrate music's ability to bridge divides and bring people together. Their innovative sound is a reminder of the beauty that emerges when we embrace our differences and work in harmony.
—
Listen to a recent interview with Omar Sosa and Seckou Keita on Funky Revolutions below: