Spoon Bend and TV Dog at the Diving Bell Social Club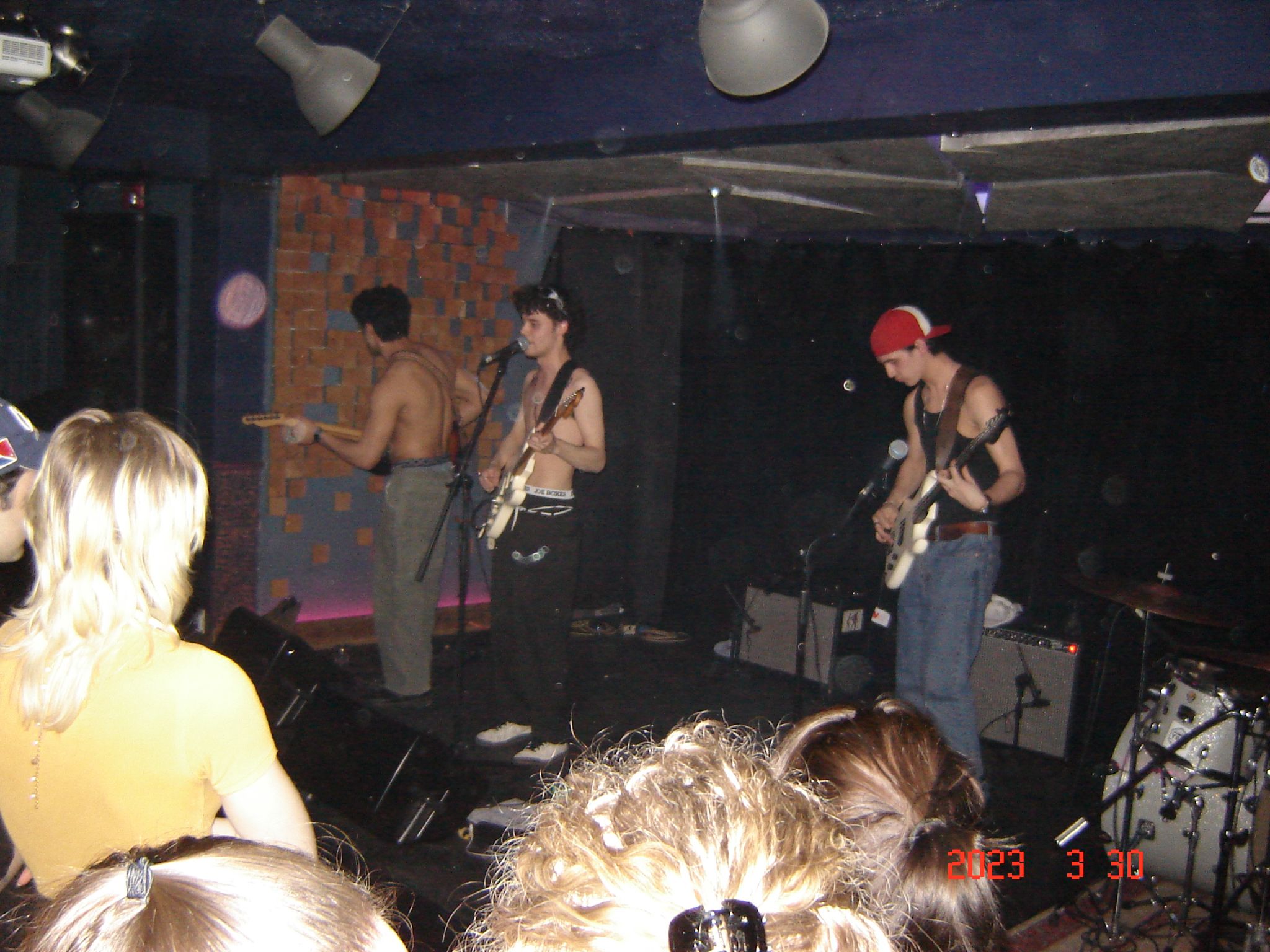 By Angelika Popovski
As a Toronto native, I was beyond excited to attend Spoon Bend's concert at the Diving Bell on March 30th featuring TV Dog and Bianca. After seeing both Spoon Bend and TV Dog's sets at the Junction Underground in Toronto, I knew that this performance would be one to look forward to.
Bianca opened the show by singing soft, sweet acoustic melodies, the most impressive being a cover of Fool to Cry, by the Rolling Stones, with Yuuya Cook on guitar. After her set, Cook remained on stage and was accompanied by the rest of Spoon Bend: Jack Florio on bass, Ami Kobayashi on guitar, and Thomas Silvaggio on drums for their 13-song set. 
Spoon Bend's electrifying opener, Sunlight, was amongst one of the 10 original Spoon Bend compositions played that night. One of my favourite songs off of their eponymous debut album, Spoon Bend, guitarists Ami Kobayashi and Yuuya Cook did not disappoint, making their instruments sound as if they were actually singing through their tasteful melding of rock guitar with blues licks. The perfect opener to energize the crowd, Spoon Bend had everyone moving and dancing in the Diving Bell within two minutes. There is a contrast between Spoon Bend's recorded music and their onstage sound. Their mellow, indie rock songs such as Magnetism and Love turned Blue are transformed into energetic, grunge and punk-influenced compositions that drove the crowd wild. This also occurred with Sailing, a slow, gentle indie-alternative song written by Cook at the age of 16. The song took on a spirited reggae influence during its riff and chorus. Soon-to-be-released songs Joshua and Persimmon were a breath of fresh air, yet ssentially the same soft, honeyed classic Spoon Bend sound fans have grown to know and love. Noticeably, Jack Florio's impressive singing and songwriting for Persimmon placed him as a member to watch, with the song's hypnotizing melodies and accompaniments. The peak of Spoon Bend's performance was undoubtedly the band's most popular song, Dance. A love song, it perfectly captures the essence of what it feels like to fall in love for the first time. It begins with its signature riff and catchy instrumentation, which were recognized instantaneously by the crowd. Towards the end, guitarist and lead vocalist Yuuya Cook launched into a breathtaking guitar solo, showcasing his impressive technical abilities. After seeing Spoon Bend twice, it is safe to say that I have never seen better live guitar playing than during one of their shows. The crowd seemed to agree given their lively cheers during the Dance solo. I particularly enjoyed their performance of Part Time Actor, Spoon Bend's newest release. The band's vocals and accompaniments were phenomenal, creating a fast tempo and upbeat performance where each instrument had something noteworthy going on individually and together created a new and brilliant sound. Spoon Bend is influenced by the classic rock era and pioneers of the indie movement,evidently shaping their sound, yet they still continue to maintain a unique and engaging experience for listeners. Paying homage to classic rock and blues, Spoon Bend closed the show with a cover of Jimi Hendrix's rendition of Hey Joe. They played a song they know and love, and played it brilliantly, with a Spoon Bend twist and original guitar solos that perfectly accompanied Hendrix's harmonies. 
Spoon Bend was a tough act to follow, but TV Dog executed their performance perfectly, with Brock Reid on lead vocals and guitar, Nathan Maaskant on guitar, Malcolm Kersel on bass, and Connor MacArthur on drums and backing vocals. They also played original music and songs off of their new album, Circus Rehearsal, which is a phenomenal listen; my personal favourites being Season of the Witch, Polka Dots, and Rodeo. TV Dog has a very distinct and original sound, drawing influence from grunge, indie, and punk music. Season of the Witch was the highlight of their performance, with Reid's stirring vocals and a fantastic tempo set by drummer MacArthur. In addition, guitarist Nate and bassist Malcom's pounding performance on Paranoia Prone brought the energy as a culmination of its sister track Rodeo, getting the crowd at the Diving Bell moving even more. A moshpit began to develop during their performance, with each subsequent song energizing the mosh further. Slippin', another original TV Dog composition, had a perfectly balanced indie-reggae feel that strays from the sound of Circus Rehearsal, but also solidified their stance as a unit that can take on any genre successfully.  
I was impressed with the performances I witnessed at the Diving Bell on the 30th. Spoon Bend, TV Dog and Bianca are acts not to be missed.