CKUT Is Hiring A Spoken Word Department Assistant
CKUT's Spoken Word Department comprises all of our programming that isn't music, and it broadly falls into two categories: Arts and Culture, and News. Application deadline is March 14th, 2023.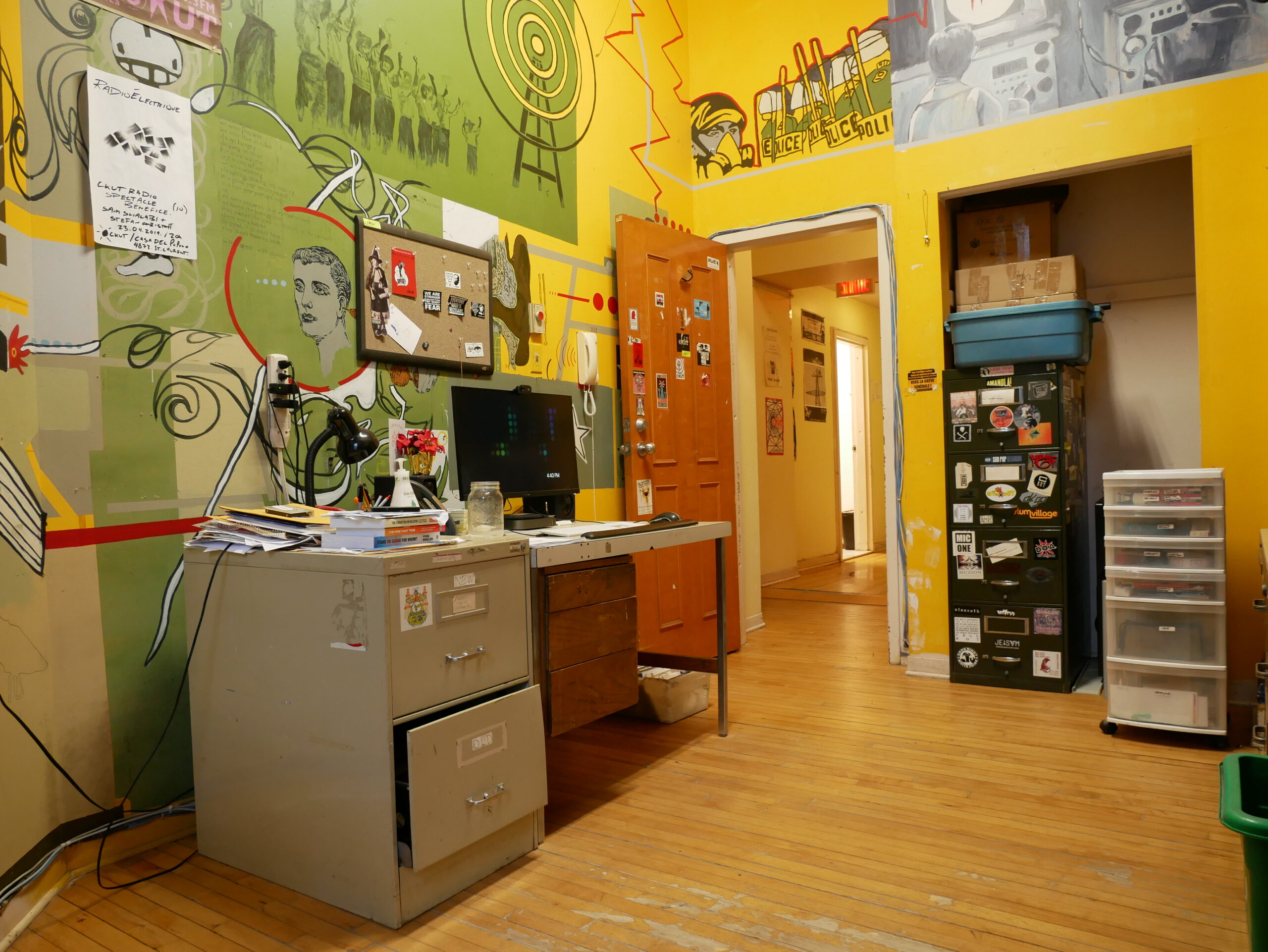 Spoken Word shows are about everything from the Montreal theatre scene, queer film theory, Latin American arts and culture, labour news and current events, disability justice, queer love and relationships, Filipino/a/x diaspora, motherhood, feminism, and much, much more. The department also coordinates special programming like Black Talk and the Homelessness Marathon.
For a taste of the department, check out our Spoken Word blog here and get familiar with our radio programming here. The Spoken Word Assistant will work closely with the Spoken Word Coordinator to keep this large and diverse department running smoothly.
The position is a 4 month contract for 15 hours a week at $16.20/hr.
This position would be ideal for a student who:
– Has a strong interest in local arts and culture, OR politics/news/current affairs (or both!)
– Is interested in journalism
– Likes to work with people
– Wants to be involved in live events and broadcasts
– Wants to get more involved with CKUT
Their responsibilities will include:
– Liaising with new and current volunteers
– Liaising with programmers
– Helping with Airtime responsibilities
– Producing Spoken Word shows live in our broadcast studio
– Some basic audio editing when needed
– Helping to find programming to fill empty slots
About CKUT:
CKUT is a non-profit, campus-community radio station based at McGill University. CKUT provides alternative music, news and spoken word programming to the city of Montreal, surrounding areas, & around the world 24 hours a day, 365 days a year. CKUT is made up of over 200 volunteers working with a staff of coordinators, not just to make creative and insightful radio programming, but also to manage the station. The station operates on a collective management system that includes volunteers in decision-making. As a campus / community radio station, CKUT's mandate is to provide an essential service to those in the Montreal community whose needs are not met by mainstream commercial radio.
Working in accordance with all health regulations, CKUT staff will be expected to work from our office located at 3647 rue University in downtown Montreal, situated on the traditional territory of the Kanien'kehà:ka.
Accessibility:
This position is largely an office job and will require the use of a computer for extended periods of time CKUT's offices are not currently wheelchair accessible as they are located up one flight of 14 stairs.
Please indicate if you are eligible for Emploi Quebec (Note: this is not a requirement).
CKUT is an organization committed to anti-oppression principles and recognizes experiences outside of the formal workforce as important qualifications. CKUT prioritizes the unique contributions that individuals from traditionally underrepresented and oppressed communities bring to our organization, and invites these individuals to apply.
We encourage ALL applicants to make mention of the diverse experience that they may have had that would make them qualified for this position.
Please indicate clearly in your cover letter that you would like to be considered for Employment Equity. You are encouraged, but not required, to self-identify if you are part of marginalized and oppressed communities that include but are not limited to: Indigenous peoples, women, visible and/or racialized minorities, persons with disabilities, immigrant, and lesbian, gay, bisexual, transgender, queer and 2-spirited persons. 
Tell us about yourself and what you think you can bring to the station!
To apply, please send us a letter and your CV to hiring@ckut.ca. Application deadline is March 14th, 2023.
Only those being considered for an interview will be contacted.
We will not collect your legal name or any information without your consent – so please feel free to use your preferred name and pronouns of choice in your application.