Vince Tinguely's 20 Year Reflections
Below is a story of the early days written by Vince Tinguely, of Tuesday afternoon's The Kitchen Bang Bang Law, for our 20th anniversary.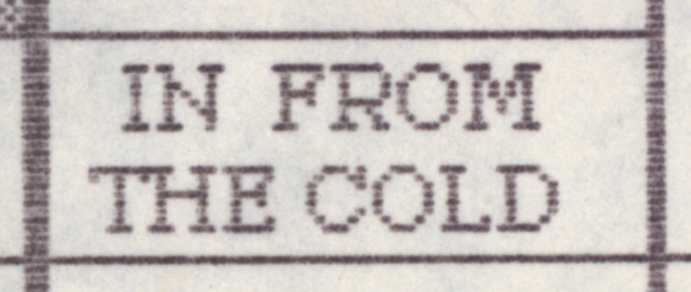 CKUT 20 YEARS GONE
In the fall of 1987, I was living in Point Saint Charles with a friend, down on Rue Center across the street from the old abandoned Sherwin Williams paint factory. We'd decided to see what life would be like living without a phone. What happened was all of our plateau friends forgot we existed – we might as well have moved to Mars. On rare occasion we'd receive visits from the very few who still remembered we were alive.
I'd been doing campus / community radio since 1985, when I'd landed a bi-weekly all-night radio show on the Halifax station CKDU. After a brief stay in Vancouver in 1986, where I had a show on CITR, I had moved to Montreal, where I was astounded to learn that Montreal still didn't have a campus station on FM! WTF?!?! So I'd gone down to McGill to apply for a show – but McGill was totally swamped with applications at the time, since they'd won their bid for an FM license by then. I got a show on Concordia's cable FM station, CRSG, but having done FM shows for a couple of years, I missed the sense of having a substantial audience out there.
So in the fall, I ventured once again down to the bowels of McGill's Student Union Building. At the time, the newly-christened CKUT (formerly the McGill Radio Club or something) occupied one large front room, where the spoken word, news and music departments and the rest of the management / administration all worked together higgledy-piggledy … it was like an old-school newspaper office, all hustle and bustle, phones ringing. Computers were not very much in evidence yet so everybody was glued to phones, rather than glowing screens.
It was kind of an intimidating atmosphere to the typically shy and insecure invert-types who are attracted to campus radio. Nevertheless I camped out until someone noticed my existence (this still can take a while at CKUT, it seems to be a trait of the entity itself, not the people who work in it) and insisted that I should get a show. After some hemming and hawwing the then-music director (or maybe assistant to the assistant, I don't know really) allowed that I might co-host an hour-long Canadian music spotlight called In From The Cold, along with three other newbie volunteers.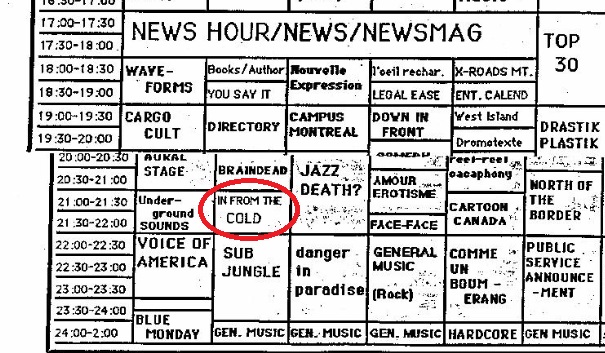 In From The Cold ran on Tuesday nights from eight to nine. It was preceded by a show hosted by some guy who went by 'Braindead', and was followed by the garage rock show Subterranean Jungle, hosted by Flipped Out Phil. (Flipped Out's show lasted well into the nineties.) As it happened, the four co-programmers of In From The Cold did their first show just one week before CKUT went on-air, so everybody was thrilled to pieces and nervous as hell. Over the next few months I did segments on Courage of Lassie, NoMeansNo, The Dub Rifles, and any number of other bands. It was like 'Canadian indie rock 101'.
The MCR was an absurdly tiny slot-like closet facing an even tinier 'guest booth' behind a window. You got to it by walking through the record library, which was also absurdly tiny compared to today. (At the time, of course, it seemed amazingly huge.) Because of the dimensions of the MCR it was almost impossible to have musical guests (unless they were playing a kazoo).
The PCR was even more absurd. In the frenzied competition between CKUT and CRSG over the first Montreal campus/community FM license, someone at CKUT thought it would be a good idea to install a full eight-track recording studio in another closet-sized space – if only to rival CRSG's claim to fame, an eight-track studio where many local bands cut their albums in the 80s. The result being that CKUT hit the FM airwaves with a massive debt, and an eight track recording studio that literally had no space to record a band. The debt resulted in the airing of corporate ads for the first year or so – I distinctly remember the Molson Ex ad I played every week. (Once the debt was paid off, corporate ads were dumped and have never been run since.)
The radio at home was locked on 90.3, of course. It counted as our sole contact with the 'real world' (no TV either) … if the 'real world' consisted of being able to enjoy the ranting of Lydia Lunch and Karen Finley in the afternoon, indepth interviews with former CIA agents talking about CIA-sponsored heroin shipments from the Golden Triangle at the supper hour, and Voivod at night. The station would literally blow my mind whenever I listened to it. It was the greatest alternative radio station I'd ever heard – no holds barred – definitely mind- and soul-expanding.
At the time, CKUT held mandatory monthly programming meetings for music department and spoken word department volunteers. The spoken word department was huge – the original mandate of CKUT called for a full 35 per cent spoken word content, when most campus stations were barely managing 10 per cent. The meetings were convened in the basement hallway outside the station; smokers could nip out the back emergency exit and hack a butt in the stairwell. These meetings were basically informative, and fulfilled the same purpose as CKUT's email newsletter does today.
Over the course of those few months the thrill of being a programmer began to wear off for my co-hosts, given mid-term exams and the like. By the end of February I found myself the sole host of In From The Cold, at which point I cornered the music director (by this time I knew who did what function at the station) and proposed doing a theme show called This Show Is History instead. Actually I proposed either doing a theme show, or just leaving, and he decided the theme show idea was interesting. So I was stoked – no more all-Canadian content! The format was one I'd worked on over the year at CRSG, taking on a broad theme like 'The Environment', 'Information', 'Economics' and 'Health', finding interesting news clippings related to it, as well as cool underground music. A kind of bricollage or collage of some elements of a spoken word show, and some elements of a music show.
Unfortunately, my relationship hit the skids around this time, and by June I was living alone in an apartment I couldn't afford, with the welfare payments for under-30s at the time being somewhat less than $150 per month. After doing 15 episodes of This Show Is History, the last being on June 28, 1988, I split town for four years. (By 1992 the welfare situation in Montreal had vastly improved.)
– Vincent Tinguely