Concert Review: Cult of Luna and Julie Christmas at Corona Theatre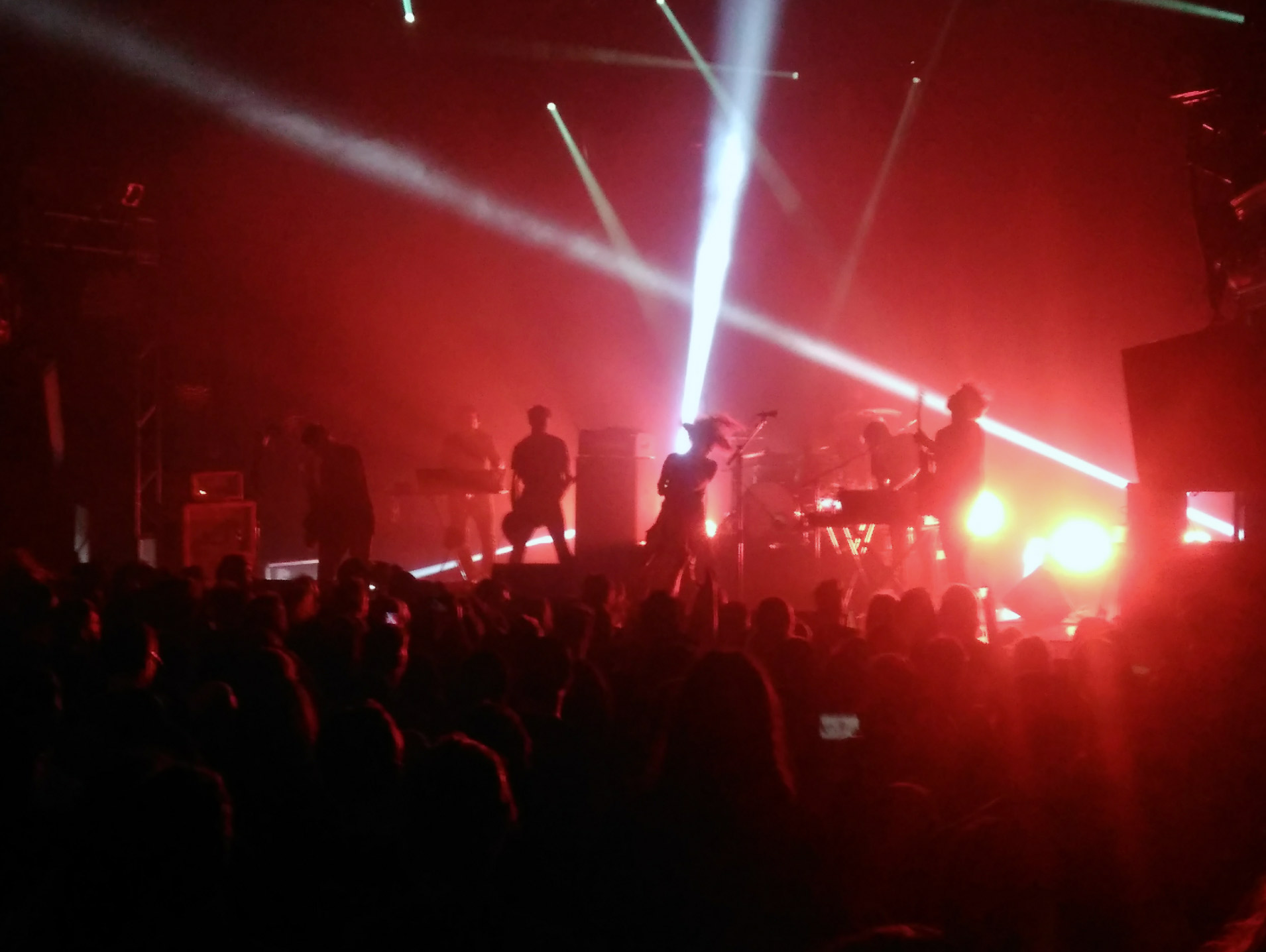 The cacophony in Montreal's old Corona Theatre rose steadily this past Wednesday, as the crowd eagerly waited for Cult of Luna and Julie Christmas to take the stage. This was going to be my third time seeing Cult Of Luna, but the first with Christmas, who was added as a featured member for the band's new album, Mariner. This Montreal show was the third in a series of just five North American tour dates for Cult of Luna, where, with Christmas' help, they've been performing Mariner in its entirety.
The group took the stage in almost complete darkness. Four spotlights were aimed into the crowd and then instantly replaced with heavy backlights, shrouding all the members in darkness and leaving only their silhouettes visible. In all the Cult of Luna shows I've been to, I've never seen their faces – I wouldn't be able to recognize them if I had to (but I'm sure they're all beautiful; they are Swedish, after all).
They began with album-opener "A Greater Call," starting off with steady post-rockish layers of keyboard, guitar, and drums, and then crescendoing alongside Johannes Persson's unique growl. Julie Christmas responded to Persson with melodic lines that claimed "we are not conquerors/we float with the tide," hypnotically repeating the phrases. Her ethereal voice was a welcome contrast to Persson's, as was her eerie and magnificent presence on stage – Christmas pulled off pieces of her dress over the course of the set, twirling them as she howled before throwing them into the crowd. During "Chevron," the heaviest song on the album, her demonic lyrics and entrancing headbanging captivated the crowd, Christmas' hair becoming a rhythmic display against the backlit stage.
Christmas clearly established herself as a tough collaborator to match, but, as always, Cult of Luna did not disappoint. Their intense playing and visuals made the space-themed Mariner into a true journey. "The Wreck of S.S. Needle" best evoked the other-worldly subject matter, with its ominous keyboards and sinister lyrics, ending with Christmas's enchanting request to "put me down, where I can see you run." During album-closer "Cygnus," strobe lights pulsed to the beat of the snare like a high powered camera flash, momentarily disrupting the crowd's optical receptors; every time my vision returned to normal, it was just as quickly jolted by the next hit, leaving me completely spellbound. This part of the record was heavily influenced by the Star Gate sequence in 2001: A Space Odyssey, an inspiration that certainly translated live: it felt like the whole theatre was crossing the outer-limits of the universe, about to finally progress into the darkness of the unknown cosmos and disappear, bringing the performance to a satisfying close.
The band exited the stage while Christmas stayed back, shaking hands with the whole front row, creating a connection with the audience that was very un-Cult Of Luna. Leaving the venue, I heard people express how mind-blown they were by the evening, particularly by Christmas's incredible voice and immaculate stage performance. I had a hard time disagreeing. My only wish was that it had been even louder, but that might just be my ears fading from going to so many shows – a small price to pay for nights like this