Concert Review: Dengue Fever & Tinariwen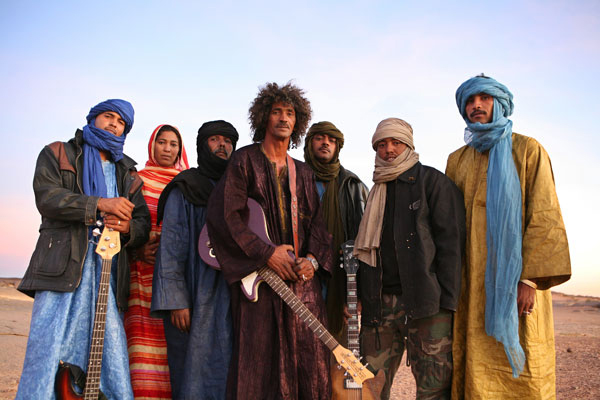 A pair just as unlikely as they were fantastic graced the stage at Place des Arts on April 13. Cambodian-psychedelic rock group Dengue Fever opened for the Saharan blues collective Tinariwen, creating an atmosphere that accomplished the feat of cultural synthesis beautifully.
Wandering into the venue a little late recalled memories of my dad stumbling upon Dengue Fever through Pandora, before free music streaming was sullied by all of the commercials. The khmer verses paired with warm guitar riffs that were both novel and reminiscent of Cambodian rock history. The Salle Wilfrid-Pelletier is a far cry from my cramped living room, and it was jarring to join hundreds of seated people as they nodded along to the chorus of "Shave Your Beard."
After sixteen years together, the groundbreaking band has amassed a dedicated and well-deserved following. Lead singer Chhom Nimol, along with her American bandmates, has heralded a resurgence of khmer pop music. Their own remarkable albums aside, the band has released compilations of music lost or destroyed during the Cambodian genocide of the late 1970s. Dengue Fever Presents: Electric Cambodia and Sleepwalking Through the Mekong have helped to bring visibility to the artistic ramifications of the Khmer Revolution while also honoring the vital role that Cambodian musicians played in the development of the rock genre half a century ago. The band's monumental outro came through "One Thousand Tears of a Tarantula," which offered a glimpse into the surf-rock allure of their latest album, Escape from Dragon House.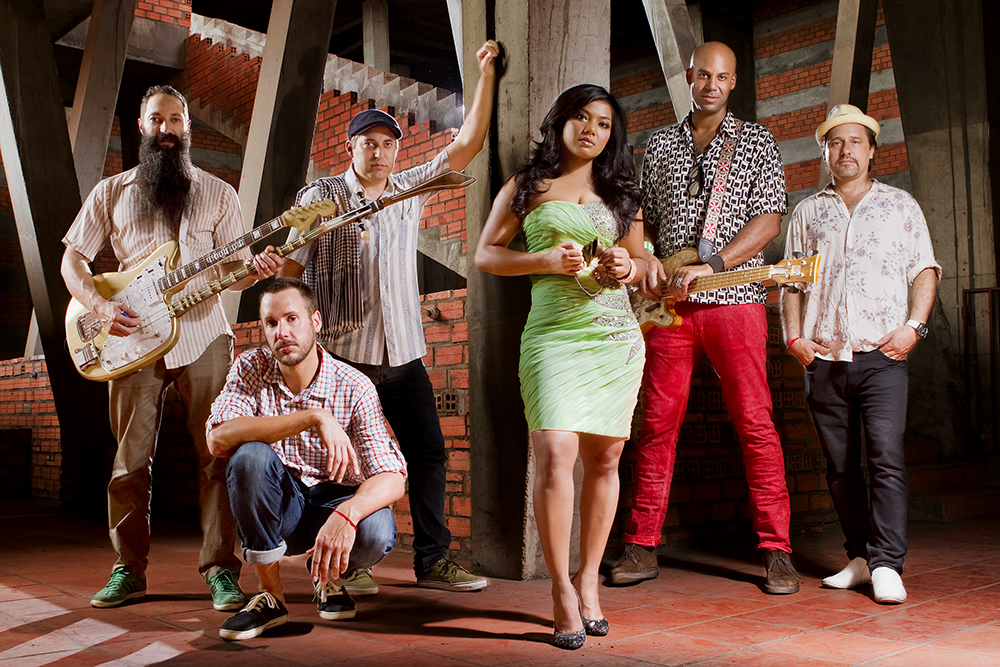 Dengue Fever photographed by Marc Walker
After a brief intermission, guests began to rise from seats both isolating and plush. Ululations rang out from every section of a crowd that had seemed so docile minutes before. We snuck toward the stage to get a good look at the six-piece comprised of Tinariwen's third generation. The Tuareg musicians sang together, clad in cheches and thick veils of exquisite cloth. One member danced throughout the performance, becoming a crowd favorite as he retired a crimson electric guitar to lead a wake of flowing garments across the stage. In a strange progression of events, the entire room began to howl and lurch toward the front row during "Tamiditin Tan Ufrawan," throwing all former reticence to the wayside.
Tinariwen came to share Elwan, a new album that reflects a range of deeply emotional responses to political turmoil and displacement, with a room full of Montreal residents beginning to thaw their bones after a long winter. In the process, they engaged individuals in a two-hour celebration of music from a Saharan region that felt close for only one night. Recorded in Joshua Tree, California, due to the political volatility that has afflicted their people for decades, the album bares the harsh realities of the group's rebellion to listeners.
That evening, we all danced together – we all lay in wait for the rotating panel of singers and percussionists to build off of the stories that came before. As the show ended with "Chaghaybou," we knew how lucky were to be invited to participate in a moment so fun and profound.