Artist Profile: Quivers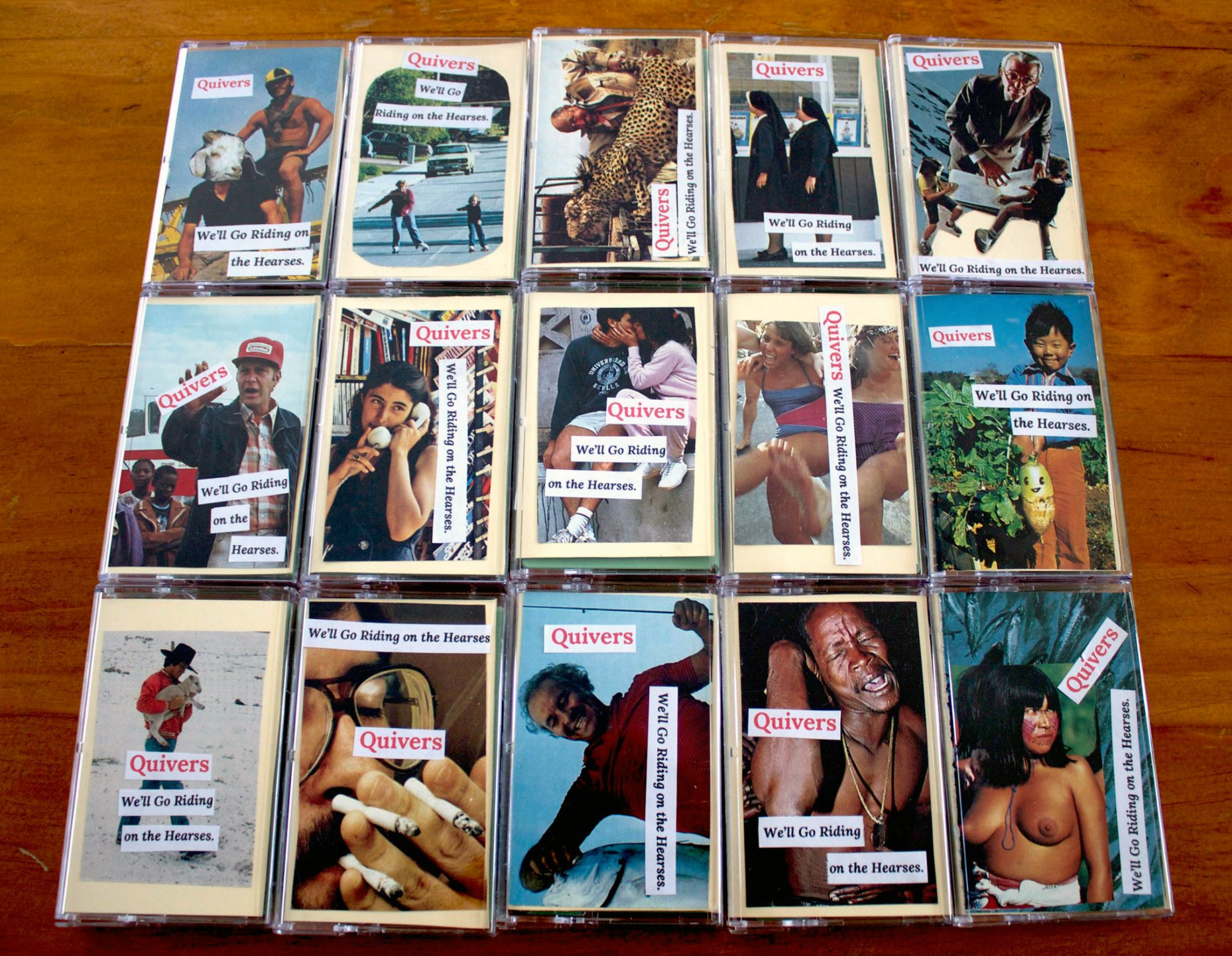 It took them about 23 hours to reach North America from Melbourne, but for a week now Quivers has been taking Canada by storm with classic Aussie optimism: "we're just happy to be on the other side of the world." I was lucky enough to catch them on one of their off days in Toronto, where I chatted with Sam Nicholson, Mike Panton, and Angela Schilling from their hotel room. Quivers initially began when frontman Sam revisited his love for writing music after taking a hiatus in China. His older brother Tom passed away in a free-diving accident some years ago, and beginning to record again, for him, was a kind of catharsis: a way to celebrate life by just "making music with your mates." Though originally from Hobart, Tasmania, Sam and Mike packed up and moved to Melbourne to explore the blooming music scene there, adding Ange, Jo, and Rohan on the way.
Despite the move, Quivers' sound is still very much rooted in Tasmanian culture. Their album, We'll Go Riding On The Hearses, was recorded on Mount Wellington in Hobart; the group rented out the Fern Tree Community Center and, in the middle of a hailstorm, hunkered down for two days and recorded. The themes of the album reference a lot of Tasmanian life and, according to Ange, is infused with a certain "Australiana sound." We'll Go Riding on the Hearses was made for road trips down wide-open highways, much like the Midlands Highway that runs through Australia; it was there that Sam saw a pale green hearse, "almost exactly like the one from [HBO's] Six Feet Under." While he didn't end up buying it, the vehicle became a central theme and inspiration for the cheeky album title, which is a pun on Daryl Braithwaite's 1991 hit "The Horses."
Blending the macabre and the sanguine is an integral part of Sam's approach to his music; the album certainly deals with grief and loss, but in an indirect way that views these indescribably difficult topics through the lens of reflection and nostalgia. Sam's ultimate goal is for his songs to be relatable, even while they deal with incredibly personal aspects of his life. For him, it's about adding a dash of fiction to the fact: "songwriters write a better version of what actually happened… [there are] certain things I'm afraid to write about in a too-honest way." This sparked an interesting discussion about the differences of songwriting; all other members of Quivers are also involved in other projects, so opinions flowed freely. Ange admitted that she tended to write "very specific songs, lyrically," adding that "I don't mind if [the songs] aren't accessible because I try so hard to make it just for me." In her opinion, artists have to learn to overcome the barrier of self-consciousness in order to really connect with the audience. The guys nodded enthusiastically in agreement.
In discussing vulnerability in songwriting and performance, it is clear that Quivers is more of a conglomerate of individual artists, who all unite together over a common love: music. While they technically play jangle-pop, the group adores genres that "would never come across in Quivers," such as R&B and Motown (I heartily approved). After collectively listing what could be considered the entire anthology of 70's soul and 80's guitar rock as influences ("Paul Kelly is our poet"), Mike added that "we've all kinda done a few things before… you pick up things as you go from other bands; I'm influenced so much by the other people I've played with." This more personal aspect comes through when Quivers plays live; Sam admitted that each song has about five alternate endings, a kind of "choose your own adventure" approach to performance. He added that the point of the band is not to be perfectionists, but rather to have a good time in the hopes that the audience will, too.
When I asked them what was in store, Sam divulged that they were working with Dave Mudie, drummer for Courtney Barnett, on a possible EP or album. For now though, the world will have to wait; Quivers plans to do an official release of We'll Go Riding on the Hearses later this year on bandmate Jo's record label, Hotel Motel Records. As for their first North American tour, the group had plenty of good things to say about Canada and were quite excited to end on the east coast. Their one question? "I guess… where are the best bagels in Montreal at 3am?"
Look for Quivers in the 514 at Le Cagibi tomorrow; it'll be a wild ride.