Concert Review: Oh Hi Collective
Oh Hi Winter Concert Hi-lights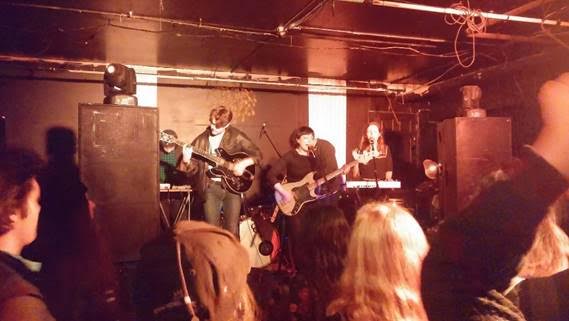 (see what I did there)
On Saturday February 20th, I found myself in a quite literally underground music environment that showcased the wide array of musical talent involved in local music collective Oh Hi.  Montreal heavyweights such as Saxsyndrum and Devon Welsh were paired up with younger musical acts such as Loon and Nanimal in a way that emphasized community and provided for an excellent night of positive vibes and beautiful music.
The Potential in Loon
It was a bit clear that Loon was playing their first show ever.  There was some level of uneasiness in their stage presence and each member was clearly very focused on playing their instruments as cleanly as possible.  This is not meant to belittle their accomplishments because this is where the magic of the community mentality comes into play.  Any band should anticipate nerves in their first live appearance, however, the rare level of warmth provided by the audience at the Oh Hi winter concert lifted the band up culminating in a magnificent performance with their last song being one of the highlights of the entire night.  The intriguing beat making blended perfectly with Tessa Dawn K's voice while the synths and guitars filled the sonic landscape.  Loon's songwriting is particularly interesting as they utilize elements of rock and electronic music into a sort of hybrid genre that both gets the crowd going and leaves room for vocal harmonies and lyricism.  I firmly believe that their unique sound and intriguing set-up could propel them into then CKUT music charts in the near future.
Devon Welsh's Voice
If you've ever heard a Majical Cloudz song you understand why Devon Welsh was able to silence a room singlehandedly with the sheer beauty of his voice.  His backing track was simple, his lyrics straightforward, but when he repeatedly belted the phrase "I'll be your light" into the microphone the entire audience could feel the emotional weight of the moment in their chest.  Welsh also mentioned that he was doing a lot of new material, which is pretty incredible considering the rate at which he has been releasing things recently.  Last year's masterpiece Are You Alone was followed up quite recently by his Wait and See EP.  Comprised of leftovers from Are you Alone, Wait and See could have easily sounded like a bunch of filler music, but songs like "Heaven" and "Let Me Lie" really delivered; Welsh is truly brilliant, has been for a while, and it seems like he is going to continue his reign.
Noémie's Smile
Any band that starts of a song by screaming the phrase "Fuck California" is going to be awesome in my book.  Nanimal is a full throttle punk band fueled by anger and power and they perfectly transitioned from Devon Welsh's minimalist vibe into the world destruction of Cheap Wig.  What helped them send the crowd into a raging pit was the amount of fun they were all having.  Throughout the set my eyes were drawn to their bassist, Noémie, who was smiling and laughing the entire time.  Despite the angsty punk attitude of their music, Nanimal clearly has heart and the amount of fun involved with their musical creations added to the already positive nature of the show.
Ethel Eugene's Electrifying Energy
Cheap Wig's set felt like a punch to the face and they didn't apologize.  The attitude of a thousand punk bands bared down on the audience in a completely unrelenting, unforgiving manner, resulting in the highest energy of the night.  The secret to Cheap Wig's success is their commitment.  With minimalist music, artists are able to find beauty in their nuanced subtlety, however, with more hardcore genres, bands must fully commit to every sound for any level of second guessing would cheapen the experience.  Cheap Wig maintained full in-your-face intensity from beginning to end of their set and the pure aggression in the entire band's effort was reflected in the stage presence of Ethel Eugene.  Eugene was in the crowd staring people down then she was back on stage commanding control of the fast paced songs with her blood curdling screams.  It was truly electrifying.  "Some people just wanna watch the world burn."  Yeah, well Cheap Wig wants burn down the establishment put it back together then do it all over again even more destructively.
Smokes' Songwriting
Smokes won me over with their knack for writing incredibly well put together songs.  They transition through beautiful guitar and violin melodies into each section eventually settling down on some sort of groove where Nick Maas pours his heart out before the climactic finale.  Smokes somewhat puts themselves into the post-punk mindset through their use of distorted guitars and dramatic sound aesthetic, but the use of violin sets them apart from the pack.  Maas's more intense moments are met with the glorious positivity of Patrick Cruvellier's violin melodies and the steady performances from bassist Andrew Miller and drummer Jeremy MacCuish drove the songs forward.  Their energy helped convey the message, but Smokes' success is derivative of their brilliantly composed songs.
Saxsyndrum's Party
Saxsyndrum is a big deal in my mind.  Their approach to funk and electronic music is relatively unheard of and yet the city has fully embraced it.  Every show is a guaranteed party with the crowd dancing around, but the group also leaves room for musical progress.  David Switchenko made the first sound by simply blaring a note through his sax.  I honestly thought he was just warming up but somehow he manipulated that note into a beat that swelled and regressed reputedly until Nick Scofield established the first groove.  As the grooves went along, Switchenko played his usual array of killer solos as Year of Glad used pedals to manipulate his powerful vocal droning.  It's rare that a band uses looping and vocal drones in a way this accessible to the crowd, while simultaneously combining aspects of jazz, funk, and electronica in a progressive manner.  They truly embody the spirit of Montreal underground by enforcing creativity in an all-around fun way.
Unfortunately, I was a bit too tired to stick around for Doldrums, however, I caught their set at Pop Montreal this past fall so I assume it was awesome.  The night was truly perfect with each band leaving it all on the stage and complimenting each other quite nicely.  By focusing on community, the huge collection of bands were all given space to shine without any sense of hierarchy.  Any future Oh Hi sponsored events will surely be worth the trip.