Concert Review: Taking Back Sunday at Metropolis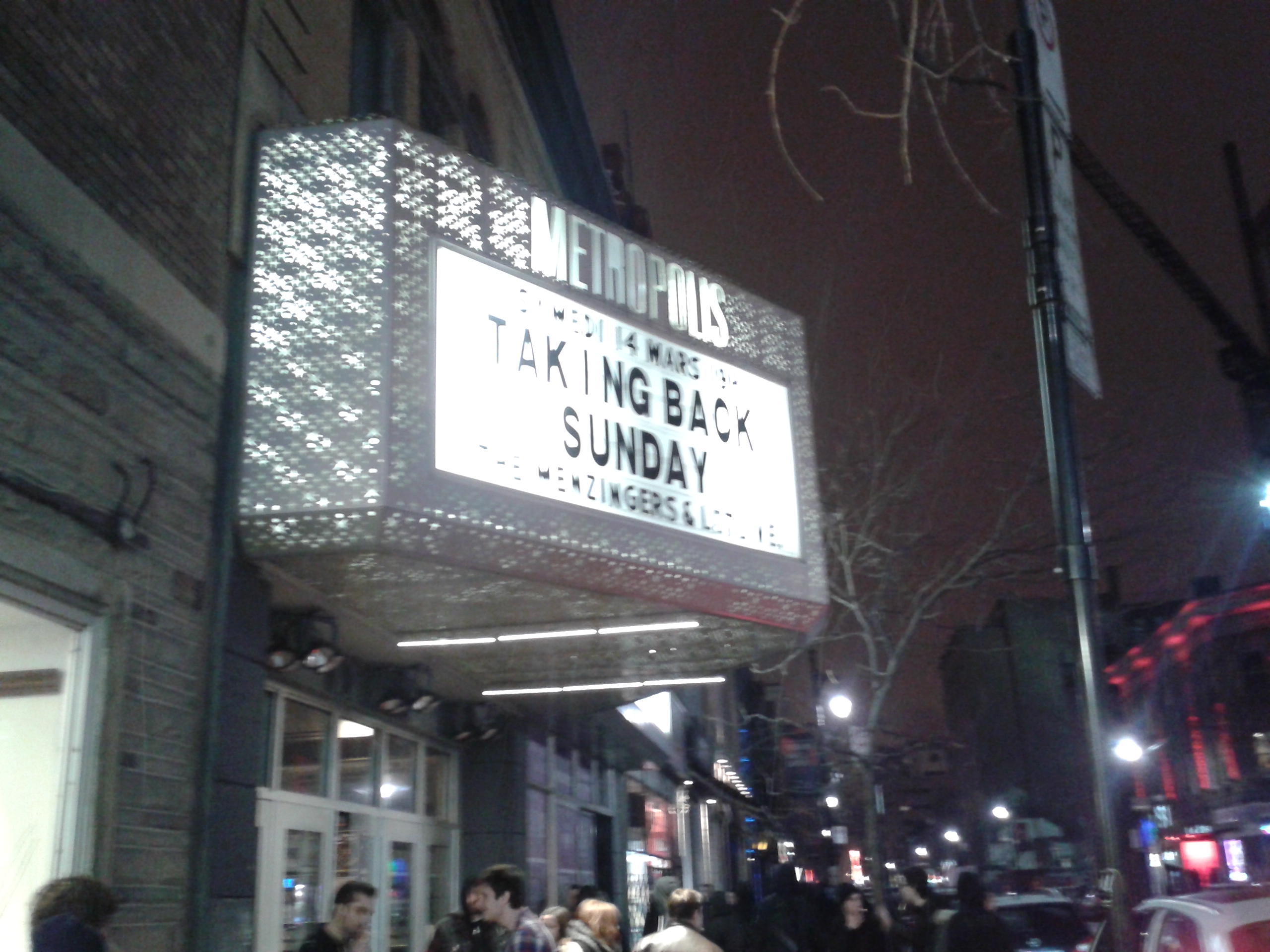 This winter has been a long one; halfway through March, and we are still seeing snowfall. After a promising week filled with warm weather and sunshine, a few hundred Montrealers piled into Metropolis this past weekend, as yet another snow storm covered the streets with a fresh coat of the fluffy white stuff. Inside the venue's doors were high spirits and an unmistakable sense of excitement, as the much anticipated performance of alternative rockers Taking Back Sunday was only a few short hours away.
Opening the show was letlive, a post hardcore band reigning from Los Angeles, California. Following their performance was Pennsylvania's own The Menzingers, whose musical style is much more reminiscent to that of early Taking Back Sunday, consisting mostly of emotionally charged, gang vocal style lyrical melodies and pop punk driven power chords. By the end of their performance, it was obvious that the crowd, a variety of young and old, was having a great time and was genuinely enjoying the acts leading up to the main performance. Despite the balcony being occupied by an older crowd, including myself, the area closest to the stage was filled with young (or the young at heart) fans who set the tone early by starting a mosh pit,  however tamed.
Eventually, the lights went out, and the main attraction took the stage, opening up their set with "Flicker, Fade", one of the title tracks of their newest album "Happiness Is", followed by one of their biggest mainstream hits, "What's it Feel Like to be a Ghost?" The stage allowed plenty of space for lead singer, Adam Lazzara, to perform his signature move; throwing and spinning his microphone through the air while holding onto the XLR cable, although he might have misjudged the size of the venue early on in the show, as I'm pretty sure he hit the ceiling with the microphone. Drummer Mark O'Connell was set up at center stage on top of a huge television screen, surrounded by another two large screens, which displayed video clips and colorful montages throughout the show. Rounding out the remainder of the band's lineup was John Nolan at front stage right on lead guitar, backup vocals and keyboards as well as Eddie Reyes at front stage left on rhythm guitar. Rocking out behind Eddie Reyes was bassist Shaun Cooper and keeping things interesting was touring group member Nathan Cogen, providing additional guitar, keyboards and back up vocals.
The audience showed their enthusiasm and appreciation for Taking Back Sunday throughout the evening, chanting and cheering at any given opportunity. The best example of this was when Adam Lazzara described the upcoming song on their set list as an homage to a difficult and troubling time in his life and the crowd roared in affirmation. Adam Lazzara even jokingly passed a comment on how ridiculous it was to have people cheering for such an odd reason, but who could blame us? TBS has been a fan favorite of emo kids and alternative pop rock enthusiasts since the early 2000's. I'm sure many of us never thought that we would still be seeing them in concert over ten years after their inception. The audience was more than willing to show their love for the band that provided the soundtrack of their youth whenever the opportunity presented itself. It was such a nostalgic atmosphere for me personally, running into old friends from high school whom I haven't seen since Taking Back Sunday had just released their album Where You Want to Be. The lyrics to their songs were still on the tip of our tongues, as it felt like just yesterday that I've listened to their music, when it reality, it has been years.
After an hour or so of a whirlwind of classic songs mixed lightly with newer music, Taking Back Sunday walked off the stage, only to come back a few short minutes later in order to finish their show off in style. They did not disappoint, as they closed out the show with a performance of Make Damn Sure, but not without first playing an all-time fan favorite song, Cute Without the "E", which was the ultimate crowd pleaser. In the midst of a surprisingly large mosh pit and array of crowd surfers, it seemed as though everyone in the audience was singing along to the lyrics "why can't I feel anything for anyone other than you?," putting a smile on Adam Lazzara's face so big that I could see it all the way from the top of the balcony. At this point in time, it was clear that the audience had gotten their money's worth, and that the members of Taking Back Sunday had been reminded of how much their music has touched the hearts of so many people.
When the show ended, the crowd dispersed and made their way out onto the cold Montreal streets, but maybe this time, feeling a little bit warmer.