Have you seen the news lately?
Since August 23, 2023, Meta has blocked Canadian news content from being seen on its platforms in Canada in response to Bill C18. Google is set to follow suit in the coming weeks. Here's what that means and what you can do about it.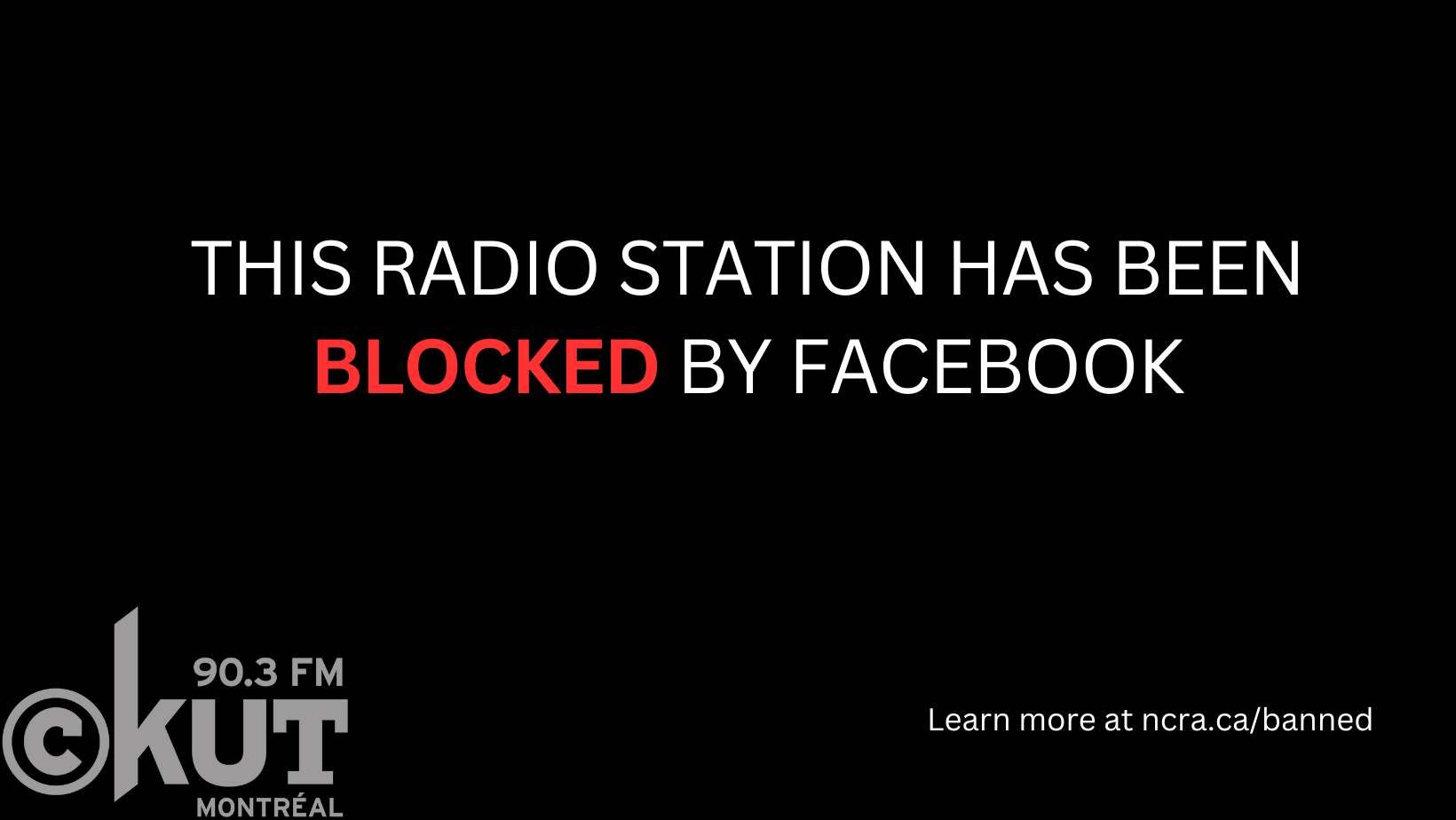 The goal of C18 is to force Meta, Google, and other companies where people share news to pay news publishers when the tech giants' sites access and reproduce news publishers' content. The Canadian government argues that this is a necessary strategy for reinvigorating our ailing local journalism sector. Meta (and Google) refuses to pay up, arguing that they are not taking advantage of news publishers. Campus and community radio stations have become a pawn in the struggle between the two, and it's our listeners who suffer.
Social media is one of the biggest ways we engage with our listeners, and making our entire accounts invisible means we can't do that. Not only can no one see our news content, but no one can see any of our content, including music content.
And more than that, anyone who, like many of us, uses social media to keep up-to-date with what's going on in our world can no longer do that. We consider news to be an essential service, and we take our role as a news publisher very seriously. We've provided around-the-clock on-the-ground coverage of events at McGill, in Montreal and its surrounding communities, in Canada, and around the world, for over 30 years without pause and we intend to continue doing so indefinitely. That's our promise to you.
If you want to help get us back on socials, please contact your local MP and ask them to advocate for us.
Here's what the National Community Radio Association has to say about the issue:
Recently, you may have heard about Meta (formerly known as Facebook) taking a significant step in Canada. They have made the decision to block all news sources in the country, affecting not only Facebook but also Instagram. 📵

📅 This decision was reported in the news as of August 1, 2023. You can read more about it here: 🔗 Fortune: https://fortune.com/2023/08/01/meta-facebook-news-blocking-in-canada/ 🔗 CTV News: https://www.ctvnews.ca/business/all-news-in-canada-will-be-removed-from-facebook-instagram-within-weeks-meta-1.6502469 🔗 National Post: https://nationalpost.com/news/why-meta-is-blocking-news-in-canada

🤔 You might be wondering why Meta has taken such a drastic measure. According to these reports, there are a few key reasons behind this decision:

1️⃣ Disagreement Over News Content: Meta has been in ongoing disputes with news organizations over the content displayed on their platforms. These disagreements could not be resolved, leading to the blocking of news sources entirely.

2️⃣ Proposed Legislation: The situation in Canada may be linked to proposed legislation that would have required social media companies to pay for news content shared on their platforms. Meta might have concerns about the potential financial impact and implications of this proposed law.

3️⃣ Misinformation and Fake News: With the rise of misinformation and fake news circulating on social media, Meta has faced criticism for its handling of such content. Blocking news sources might be an attempt to address these concerns and avoid potential legal consequences.

🔍 It's essential to stay informed, and while this development might impact your access to news on Meta's platforms, there are alternative sources to keep yourself updated on current events. Make sure to follow credible news outlets directly or use other social media platforms for reliable information.

Why does this impact Community Radio?

Not-For-Profit Radio was unanimously included in amendments to Bill C18 as it was passed because these stations are required by license to create local news at 15%, the only license required to do so (Note the CRTC Classifies Local News under SpokenWord – this does not necessarily mean breaking news but includes long-form and other types as part of all SpokenWord.). Meta refused to meet with Campus/Community Radio associations, and with the inclusion of them as mandated participants in discussion, these stations were put on the ban list – even though they are not 100% news outlets.

📣 Concerned citizens of Canada, your voice matters! 🇨🇦 If you disagree with Meta's decision to block news sources in our country, it's crucial to take action and let your concerns be heard. You can make a difference by reaching out to your Member of Parliament (MP) and Meta directly.

🏛️ Contact your MP: As elected representatives, MPs are here to advocate for your interests. Express your concerns about the impact of this news block on access to information and the importance of reliable news sources. Urge them to engage in dialogue with Meta and work towards a resolution that benefits both users and news organizations.

📧 Reach out to Meta: Let Meta know how you feel about their decision and its implications. Be respectful but assertive in voicing your opposition to the news block and highlight the significance of access to diverse and trustworthy news content. Your feedback can contribute to shaping their policies and approach moving forward.

Together, we can make a difference in ensuring that the public's right to access reliable information is upheld. Let's take action and stand up for an open and informed society! 🗣️🌐 #SpeakUp #VoiceYourConcerns #AccessToNews

Here are some articles that have covered the subject and its impact:

Facebook and Instagram's Canadian News Blackout Is Crushing Student Journalists
Find your MP here if you want to say something about this!
As always, you can find us here on our website and on air, 24/7, at 90.3fm in Montreal, and you can sign up for our newsletter, Wavelengths, to stay up-to-date on what's happening at the station here: http://eepurl.com/gYKqyz