RIP Ross Harvey – Original Host of Bluegrass Rambling
CKUT is sad to announce the passing of Ross Harvey on July 5th 2023.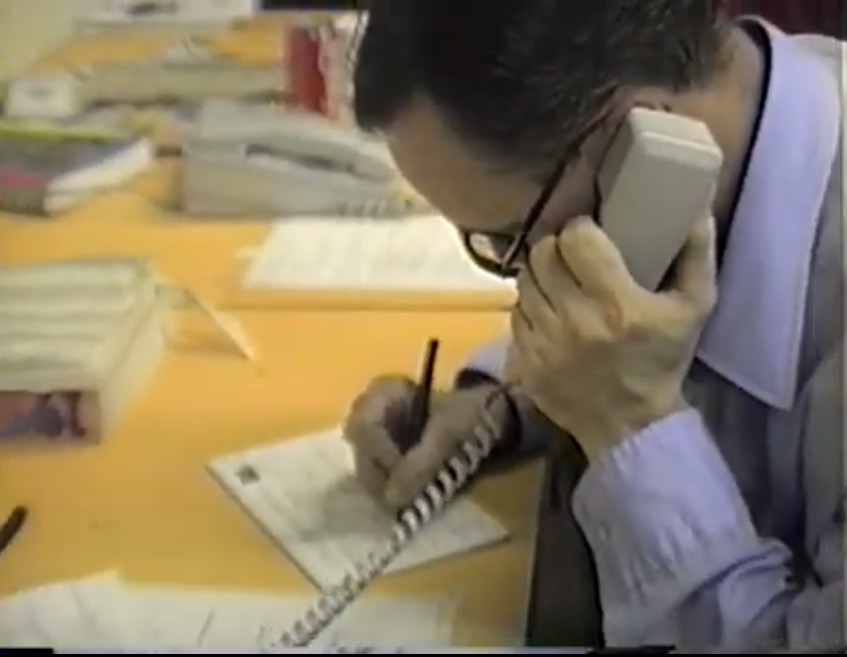 Ross (pictured above answering the phones during CKUT's 1991 Funding Drive) became part of the CKUT fam as host of Bluegrass Rambling back in 1988 and also hosted Country Classics beginning in 1991.
Many Montrealers' turned their radios on every Sunday evening to hear Ross's extensive collection of music. The phone would ring throughout his show with listeners making requests or just showing appreciation. Ross also volunteered on phone shifts during the funding drive and fed us with his homemade peanut butter cookies.
Ross was a regular at the Wheel Club (a veterans social club in NDG which featured live Bluegrass on Monday nights) where he got to listen to the music he loved, drinking his rye and ginger and interacting with patrons and listeners. The Wheel Club is where Ross passed the torch onto new hosts of the radio shows inaugurating them with a helluva party which much of the CKUT fam attended, experiencing the country/bluegrass scene in all its authenticity, some for the first time.
Sunday nights remain  the place to get your fix of Bluegrass & Country on CKUT – for this we thank you Ross. Our condolences to all.
Please write production@ckut.ca if you have any of Ross's old radio programs, or any memories that you would like to share.